STORY
CU's All Four:One marketing campaign takes home national awards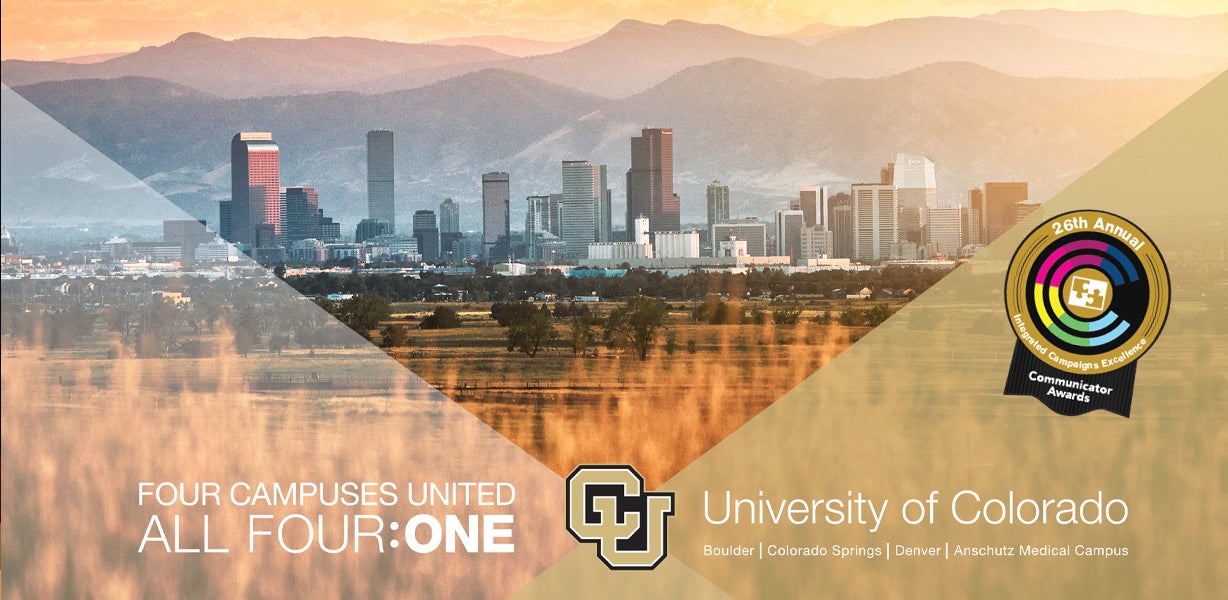 The University of Colorado system's All Four:One marketing campaign recently earned major marketing and advertising industry honors.
In the Communicator Awards, the largest and most competitive awards program honoring creative excellence for communications professionals, CU received the competition's highest honor: the Award of Excellence for Integrated Marketing Campaign, alongside such notable brands as Amazon, ESPN Films, Publicis Sapient, Macy's, PepsiCo Design & Innovation, Forbes Media, and Savvy.
The Communicator Awards attracted over 6,000 entries from across the U.S. and around the world. It is the leading international creative awards program honoring creative excellence for communication professionals. Founded almost three decades ago, the annual competition honors the best in advertising, corporate communications, public relations and identity work for print, video, interactive and audio.
"These awards are testament not only to the tremendous asset CU's four campuses are to the state and beyond, but also to collaboration among communicators from across the system to tell that story," said Vice President for Communication Ken McConnellogue. "We have a great university and it's important that we share that every chance we get."
CU's All Four:One campaign, which started more than four years ago, raises awareness of the four distinct CU campuses, as well as the collective power of the university system, and their tremendous influence and impact on the state of Colorado. Its multimedia approach reaches markets around the state and beyond. A team from each campus worked with Greenhouse Partners, a Boulder-based branding and marketing firm, on the project.
CU also was a standout at the Collegiate Advertising Awards (CAA), an elite, national program recognizing higher education organizations for excellence in communications, marketing, advertising and promotions of their schools. CU won Gold for Total Advertising Campaign, making it among the top 5% of entrants in North America.
The 2019 CAA program received entries from the United States and Canada representing small community colleges to very large schools and universities. Awards were issued for entries that received top marks from judges placing them in the top 16% of the nation for advertising excellence. Judging criteria included creativity, layout and design, functionality, message effectiveness, production quality and overall appeal.