STORY
CU receives award for excellence in procurement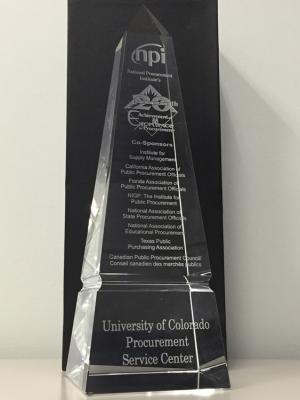 The National Procurement Institute Inc. (NPI) has announced the University of Colorado as one of the recipients of this year's Achievement of Excellence in Procurement (AEP) awards. The awards are being presented this week at NPI's 47th Annual Meeting.
The AEP awards were established in 1995 as part of a national program to benchmark organizational excellence in public procurement. The awards evaluate institutions against standardized criteria designed to measure innovation, professionalism, productivity, e-procurement, and leadership attributes of the procurement organization.
NPI was founded in 1968 to establish cooperative relationships among its members and to develop efficient purchasing methods and practices in the areas of governmental, educational and institutional procurement. The mission of NPI is to facilitate the educational and professional development of its members.