STORY
CU Faculty Voices: CU system libraries support open access
Knowledge democracy is advanced in many ways
Editor's note: This is one in a series of commentaries by CU faculty, presented by the Faculty Council Communications Committee and CU Connections. Learn more here and submit your own column pitch.

By Danielle Ostendorf, Melissa Cantrell, Jane Thompson, Rhonda Glazier, Susan Vandagriff, Kelly McCusker, Sommer Browning and Katy DiVittorio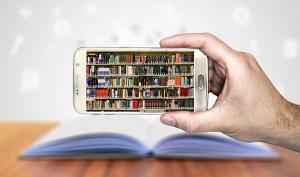 The University of Colorado Libraries at Anschutz, Boulder, Colorado Springs and Denver were excited to see the CU Faculty Voices article by Christopher Bell about knowledge democracy and scholarly publishing. Advocating for, publishing in, and supporting open-access knowledge is at the forefront of libraries' work.
As academic librarians, we promote open access (OA) – the free and immediate availability of scholarly literature – in order to provide for a more equitable and sustainable distribution of research and data. Having faculty voice their opinions and experiences with scholarly publishing is an important step in reshaping the enterprise of scholarly journal publishing.
Dr. Bell makes many vital points about the role faculty play in the "for-profit academic journal system." Among them, he cites their crucial role in drafting policies and framing criteria for reappointment and tenure, which form the bedrock of their scholarly incentives.
Dr. Bell also writes about the importance of "knowledge democracy" and how for-profit publishers take advantage of this concept. Academic libraries support the tenets of knowledge democracy: that knowledge is relational and represented in diverse forms, knowledge from often excluded or marginalized epistemologies should be recognized, and knowledge can make a difference in our lives and be shared with others to mobilize for social change (Coghlan & Brydon-Miller, 2014).
Dr. Bell described the landscape of scholarly publishing accurately when he stated that "people (are) asked to volunteer the products of their labor, which are then distributed by a volunteer to other volunteers for critique, then returned to the originator for more labor, which is then taken – for free – by a corporate entity that packages said labor product for distribution behind paywalls and subscriptions." The status quo is unfair to the unpaid contributors, reviewers and editors, but is especially unfortunate for knowledge-seekers who are constantly frustrated by these paywalls.
The CU Libraries are the negotiators for access to research — articles, books, media, historical images, data and more. The Libraries work together to negotiate deals with scholarly publishers that are not only fiscally sustainable but also permit others to access CU research freely. However, negotiating and facilitating seamless user access with for-profit companies comes at an enormous cost to the Libraries, and in turn to our Universities.
The cost of basic access to scholarly research has been rising dramatically since the 1990s. In addition to a rapid increase in the volume of new research being published each year, the cost of subscription access to databases and journals rises at around twice the rate of inflation, usually around 6% per year. (Bosch, Albee, & Romaine, 2020).
The true cost of these subscriptions is difficult to communicate because libraries are often made to sign non-disclosure agreements (NDA) with individual publishers preventing them from sharing what libraries are paying. The CU libraries always push back against agreeing to an NDA, but in some cases if the library does not agree to an NDA then the library cannot subscribe to the publisher's content. The libraries have to balance the need for the content versus the need for transparency over costs to the public. However, many libraries have been able to communicate their costs when they cancel their subscriptions and more libraries are canceling due to unsustainable publishing and acquisition models (SPARC, n.d.).
So, while we cannot tell you how much the CU System Libraries pay to many specific publishers, we can tell you approximately how much each of our libraries pay every year just to maintain basic access to subscription resources:
University of Colorado Anschutz Medical Campus Strauss Health Sciences Library: over $3.1 million
University of Colorado Boulder Libraries: Over $10 million
University of Colorado Boulder Wise Law Library: Over $725,000
University of Colorado Colorado Springs Kraemer Family Library: Over $1.6 million
University of Colorado Denver, Auraria Library: Over $3.1 million
Total: Over $18 million every year
Compounding this problem is the fact that U.S. libraries have generally faced flat, and sometimes declining, budgets in recent years. Growing demand for subscription databases has led to difficult decisions about which resources to cut and which to keep. As Dr. Bell notes, this problem – which is impacting large and relatively well-funded institutions – says nothing of the underfunded communities and countries in which scholars (as well as the public) may find themselves permanently locked out of the paywall gates of powerful corporate publishers. The libraries that make up the CU system have long recognized the unsustainability of this publication model and have worked to advance open access publishing, as well as to support scholar-led and nonprofit initiatives.
In addition to negotiating access to research with publishers, CU Libraries, as a system and individually, support open access and advance knowledge democracy through a multitude of ways. This includes providing financial support to publish in open access journals, hosting workshops and consultations with researchers to educate them about their author's rights and publishing options, negotiating better open access options for CU-created works with publishers, assisting with the development of student-created OA peer-reviewed journals, and building institutional repositories that host and disseminate OA articles and other creative and scholarly works. We can also help faculty add language that supports OA publishing in new Reappointment, Promotion and Tenure (RPT) criteria.
To learn more about OA and ways CU Libraries can help you publish in OA journals, contact your campus representative(s) below.
CU Libraries Open Access Resources and Support:
References
Bell, C. (2020). CU Faculty Voices: The time has come to stop supporting for-profit journals. CU Connections. https://connections.cu.edu/stories/cu-faculty-voices-time-has-come-stop-supporting-profit-journals
Bosch, S., Albee, B., & Romaine, S. (2020). "Follow the money." Library Journal, 145(4), 36-41.
Coghlan, D. & Brydon-Miller, M. (2014). Knowledge Democracy. Sage Encyclopedia of Action Research. DOI: https://dx.doi.org/10.4135/9781446294406.n206
SPARC. (n.d.) Big Deal Knowledge Base. https://sparcopen.org/our-work/big-deal-knowledge-base/