STORY
Colorful new signage raises university's profile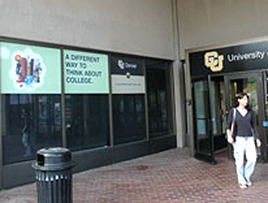 Colorful new window signage with CU Denver logos, students' faces and provocative questions is featured on the Denver Campus.
The Think Tank advertising campaign continues its roll-out with signs replacing previous University of Colorado Denver signage at the street level of the Lawrence Street Center and the CU Denver Building.
"The locations were selected for their visibility to pedestrians at street level, allowing us to share messages about the university and reinforce its presence in downtown Denver," said Karen Klimczak, director of marketing.
The Think Tank campaign launched this year and is part of the university's undergraduate enrollment strategy. The campaign has been coordinated by CCT Advertising in partnership with the university's Office of Marketing and Community Engagement.
"The signage will be up for the next year as the first phase of the undergraduate enrollment campaign runs through early June and then starts again in August/September for the fall recruitment cycle," Klimczak said.
The signage augments the multifaceted campaign, which includes an interactive website, CUDenverThinkTank.com. Earlier this month, Think Tank videos, a compilation of more than 100 CU Denver students expressing their thoughts about the university and their aspirations, were shown to students in the North Classroom Atrium.
The campaign seeks to encourage metro-area high school students, community college transfers and military veterans to enroll at CU Denver.
Klimczak said undergraduate recruitment collateral materials also are being redesigned to adopt the Think Tank theme.
For more information go to CUDenverThinkTank.com.