STORY
Campus celebrates 40th anniversary, start of academic year with far-out party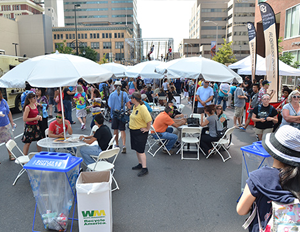 Students peaced out as hippies, staff members channeled disco divas and neighborhood residents sported neon-framed sunglasses. Everyone got their groove on Aug. 22 at the '70s-themed Block Party.
CU Denver, which became an independent institution in 1973, boogied into the new academic year with a flashy party that took bell-bottomed revelers back to the decade when our university became official. The second-annual Block Party, on Lawrence Street between 14th and 15th streets, rocked with music, food, a tie-dye station, games and, of course, pet rocks.
Karen Fennell, wearing a psychedelic sundress and groovy beads, got a CU Denver temporary tattoo at the College of Liberal Arts and Sciences booth. "I think it's really important to do something that's fun but also gives people a chance to get involved and show their spirit for CU Denver," said Fennell, executive assistant to the dean in CLAS.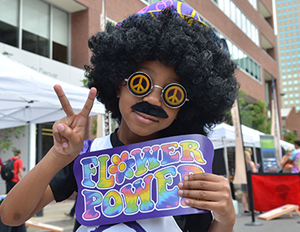 All the schools and colleges hosted booths on the block, but CLAS, having a knack for history, decked out its booth with a display that chronicled CU Denver's 40-year history. Brooke Gladstone and Jarett Zuboy, both graduate students in history, put the display together, with Gladstone compiling the photos and Zuboy the narrative benchmarks.
"Doing this research, it was real interesting to see the transformation that has happened to the university," Gladstone said. "It now has a much grander scale, and it's become a successful urban university. To be right in the middle of a city like this and to have an identity, it's great."
The tie-dye station was a hit, drawing hordes of students who got creative with their designs. "I wanted to put a flower in the middle of my shirt," said Zihao Deng, a freshman studying information systems. "I used the red dye for that. This is a lot of fun."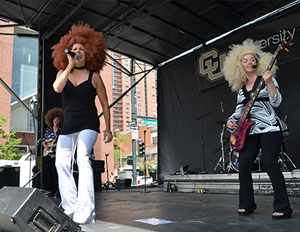 Music was performed by MIX a cappella, a CU Denver singing group, as well as A Band in Pictures and Boogie Machine. Block partygoers could choose from a dozen food trucks and then work off calories at the mobile ropes course and a rock climbing wall.
Plenty of people sported clashing-color outfits for the '70s costume contest, and the face-painting booth was a popular stop for the kids.
Business School Dean Sueann Ambron enjoyed the Block Party atmosphere. It was just a year ago that the event debuted in conjunction with the grand opening of the new CU Denver Business School at 1475 Lawrence St. "I think this is good for the schools and it's good for the university and it's good for the community," she said. "We ought to party once in a while. It's about new beginnings."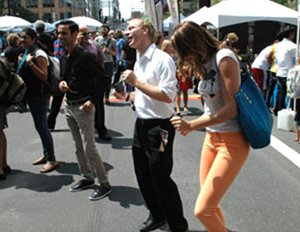 The Popes, who live just a block away, enjoyed a family outing during the noon hour. Sampling the food, music and entertainment were Jessica, Bob and 13-month-old Luna Blue.
"This is awesome," said Jessica. Bob added, "It just represents the cultural aspect of what goes on downtown. The university is our neighbor, so it's great that they have a party for everyone."
While last year's inaugural Block Party drew hundreds, this year's theme-oriented bash appeared to bring out more than 1,000 revelers over the three hours. The event is one of the many fun events coming up in the next several weeks to launch the new academic year.
"I think it's an absolutely wonderful idea for our campus to bring everyone together like this," said Rachel Cornelius, a coordinator in the School of Education and Human Development.
Cornelius then flashed a peace sign and pranced off to the costume contest in a skin-tight white disco outfit that would make John Travolta envious.