STORY
Boettcher grants $175,000 to UCCS arts complex construction
Foundation's support helps creation of five-venue center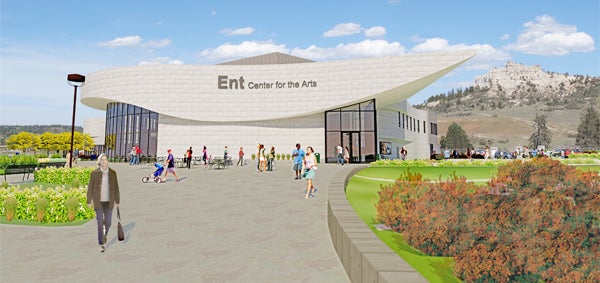 The Boettcher Foundation has awarded a $175,000 grant to support the construction of a new arts complex at the University of Colorado Colorado Springs.
The Ent Center for the Arts will be a transformational, five-venue arts complex representing a partnership among the university, six community arts partners and three local school districts. The Ent Center will house performance and exhibit spaces including a 750-seat main theater, a 250-seat recital hall, the Galleries of Contemporary Art, the university's Dusty Loo Bon Vivant Theatre and the Osborne Theatre.
"We are deeply appreciative of the continued support of the Boettcher Foundation," Chancellor Pam Shockley-Zalabak said. "This kind of private support is vital to the university's mission to improve the quality of life for southern Colorado."
Groundbreaking for the arts complex, estimated at $60 million in total costs, is scheduled for August with opening scheduled for early 2018. The venue site is located on the west side of the UCCS campus on North Nevada Avenue across from University Village Colorado shopping center.
"The Boettcher Foundation is honored to support a shared space where the community can celebrate the arts, and UCCS's outstanding arts faculty can pass on insights to a next generation of artists and performers," said Tim Schultz, president and executive director of the Boettcher Foundation. "This arts complex will have a huge impact both economically and culturally on the Pikes Peak region."
The Boettcher Foundation invests in the state's most talented citizens and high-potential organizations with the belief that supporting their hard work and leadership will enable them to give back for years to come. For information, visit www.BoettcherFoundation.org.