SPOTLIGHT
'Embracing Joy': Donor impact report underlines how giving sparks joy at CU
Office of Advancement publishes annual collection of stories, fiscal year 2021 financials information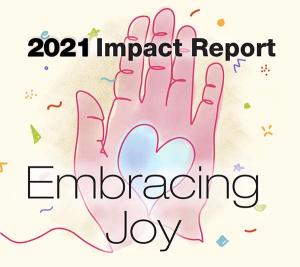 The CU system Office of Advancement is proud to share its annual Impact Report to Donors. Each year, the online report features financials information and stories of philanthropic impact across CU's four campuses.
This year's central theme is "Embracing Joy" and sets forth the idea that joy is what motivates individuals to do more at CU – in academics or research, health care or the arts.
Last fiscal year, 29,793 donors made 54,543 gifts for a total of $371.2 million. The report demonstrates the impact of those numbers by telling four stories about how philanthropy drives joy and motivation in the lives of CU's students, doctors, faculty and alumni.
The report features stories about:
An oncologist, surgeon and palliative care expert at CU Anschutz who helps patients live rich, joyful and fulfilling lives in spite of cancer.
A speech pathologist at CU Denver who uses assistive technology to help non-speaking patients express their wants and needs, set boundaries and live happier, more independent lives.
A first-generation college student at UCCS who is lifting his community while pursuing his dream of being a physician's assistant.
A young actor and CU Boulder alumna who is teaching violence-prevention techniques in Colorado schools while also sharing a love of Shakespeare.
Read the 2021 Impact Report to Donors.
The report is built from collaboration across CU's four campuses, the CU Foundation and the CU system.
We invite all CU employees to share the report and stories in your communications channels and with your constituents, as well as add a link to the report to your email signature.