STORY
Backed by CU, contract flexibility bill signed into law
Lawmakers also considering $1 million for CU center for drug, alcohol research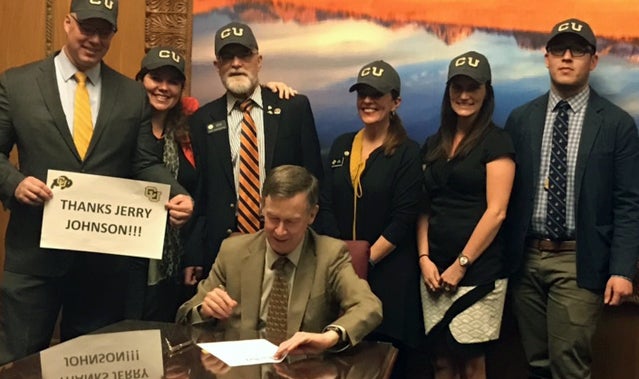 Gov. John Hickenlooper on Monday signed into law a CU-initiated bill that addresses higher education employment contract terms.
Prior law had limited higher education institutions to awarding only six term-employment contracts per campus and system. Contract length also was limited. Senate Bill 17-041 enables more flexibility by exempting contracts for positions funded by revenue from auxiliary activities, such as athletics.
In CU's case, all contracts still must be approved after review by the Board of Regents in a public meeting. The board retains the ability to decline to offer contracts to any auxiliary employee and to decline individual contracts on a case-by-case basis.
The bill was sponsored by Sen. Keven Priola and Reps. Yeulin Willett and Edie Hooton.
Also this week at the Capitol, Senate Bill 17-193 is under consideration by lawmakers, having gained senate approval on Wednesday. The bill would designate $1 million for the establishment of a national center to research prevention and treatment strategies for opioid and alcohol abuse and addiction. The bill notes rising rates of drug-related deaths in Colorado since 2000.
The center, to be based at the CU Anschutz Medical Campus, would build off of the Colorado Consortium for Prescription Drug Abuse Prevention and the campus's expert faculty who work in the Schools of Pharmacy, Medicine, Public Health and Nursing, and the National Behavioral Health Innovation Center and addiction clinics CeDAR (Center for Dependency, Addiction and Rehabilitation) and ARTS (Addiction Research and Treatment Services).
Sponsoring the bill are Sens. Kevin Lundberg and Cheri Jahn, and Reps. Bob Rankin and Brittany Pettersen.
The federal budget recently proposed by the White House includes a $500 million increase above current levels to expand opioid misuse prevention and increase access to treatment and recovery services.
CU President Bruce Benson and CU Denver Chancellor Don Elliman said they are committed to seeking private financial support from foundations and individuals for the proposed center. As currently written, the bill calls for the funding appropriation to come from .01 percent of the state's marijuana tax cash fund annually.
Meanwhile, CU's government relations and budget teams continue to monitor progress on the state's budget for the 2017-18 fiscal year. Budget forecasts released last week by the governor's office and the Legislature precede the Legislature's consideration of a final budget, which could arrive as early as next week.