STORY
Arnold honored as President's Employee of the Year
System Staff Council celebrates colleagues at annual event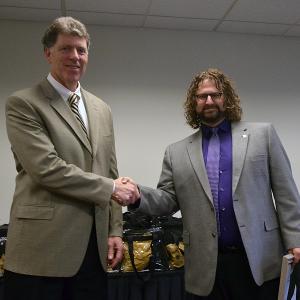 Cathy Beuten
Jon Arnold, web developer in University Relations in the Office of the President, was honored Wednesday as the President's Employee of the Year. The award includes a $1,000 prize.
During a reception at 1800 Grant St., System Staff Council celebrated Arnold, other nominees for the annual honor and colleagues who are marking service milestones at CU.
The council's nominations committee received numerous nominations and selected Arnold after a lengthy review. Notable comments from his nomination packet include:
"Jon is not only a huge asset to our department, he is an often-sought resource for (and friend to) every system department and employee. Whether it's a website crash, a form that's not conforming, a problem with access or any of his vast day-to-day responsibilities, Jon approaches his tasks with skill, professionalism, respect and an amazingly positive attitude."
"Through his commitment and dedication, the university has remained well ahead of the curve with regards to the web and communications."
"He is continuously looking out for the university's best interests and thinking up new ways to make the system more efficient."
"Jon is a very hard working, committed team member who's always readily available, capable and willing to assist others."
"Jon's strong leadership of the System Administration Web Team (SAWT) perhaps best exemplifies his stellar customer service and commitment to teamwork."
System Staff Council also recognized the other nominees for the President's Employee of the Year Award:
Julie Sharpe, UIS – "Julie has consistently been given praises by campus and System leadership alike. She is well liked and asked often to lead cross-team/cross·campus meetings given her demeanor and approach to ensure all voices are heard, while driving the best solutions for CU."
Connie Johnson, Office of Government Relations – "Connie not only keeps the OGR trains running; she serves as a unifying force within OGR. With half of the OGR team working in Denver and the other in Colorado, Connie is one of the few people in the office who has an awareness of what is happening in both arenas."
Nitzan Meltzer, Technology Transfer Office – "From day one, Nitzan has been a team player, always willing to do whatever task we need her to do in order to keep the team going. She is willing to learn and ask the appropriate questions."
Thao Tsuda, Technology Transfer Office – "Thao has demonstrated a high level of commitment to the quality and throughput of her work. Thao maintains a high level of customer service, maintaining professional communication between parties under sometimes difficult circumstances."
Linda Warren, UIS – "In her capacity as a developer and in providing everyday support and maintenance for the University's Finance System, Linda applies her skills and knowledge to troubleshoot and resolve issues as they arise. She is patient at explaining technical details and really knows how to keep things moving along."
Kendra Zafiratos, Employee Services – "Kendra is adamant about keeping the email communication with our internal and external customers at an absolute professional level. Kendra is a true example of what customer service is all about!"
During recognition for milestones in years of service, a special posthumous presentation was made in honor of Dave Robles, CU Foundation assistant controller, who died Sept. 5 while on a hike. He was 53.
His wife, Marcy, accepted the award on behalf of her husband, who served the university for 15 years.
See photos from the event here.
Employees recognized for their years of service to CU:
35 Years
25 Years
Lisa Affleck
Michael Esposito
Edward Schroeder
20 Years
Arthur Figel
David Turner
15 Years
Lindsey Apodaca
Rae Armijo
Bradley Baker
Jennifer Bosma
Travis Chillemi
Ridawn Cummings
Heather Field
Margaret Haith
Sylva Janicek
Lisa Landis
Michelle Martinez
David Robles
Robert Weverka
10 Years
Leonid Balaban
Jeri Barlock
James Duvall
Jennifer Green
Joshua Grudle
Terry Lee
Milagro Lobato
Kevin McCarty
Michele McKinney
Sara Missel
Sean Myers
Esther Naftz
David Pierce
Erin Russell
Bryn Samuelson
Katherine Sauer
Gabrielle Sawusch
Julie Sharpe
Tom Smerdon
David Sprenger
Thao Tsuda
Rebecca Weitz
Kimberly Wendelin
5 Years
Calvin Anderson
Geoffrey Barsch
Houa Cha
Kathy Chang
Penny Davis
Jay Dedrick
Anne Fleming
Katy Kotlarcyzk
Robert Kuehler
Kristine McNamara
Chadd Medina
Sandeep Mekala
Jennifer Montez
Isabella Muturi Sauve
Brynmor Rees
David Sprouse
Mary Vellequette