SPOTLIGHT
University Counsel advises CU community on impact of Supreme Court decision
New memo provides guidance for continued commitment to diversity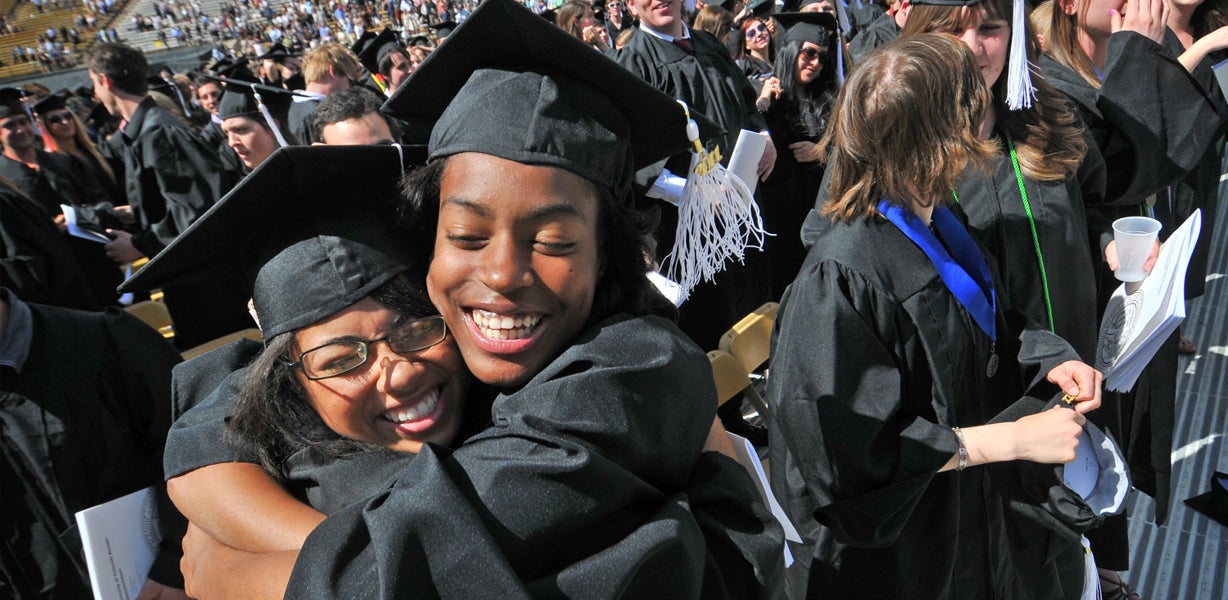 A U.S. Supreme Court decision earlier this summer prohibits universities from considering race as a factor in college admissions, but it does not affect the University of Colorado's pursuit of a diverse student body, university leadership says.
The Office of University Counsel in CU system administration is providing guidance to the CU community following the Court's announcement of the opinion in June. The Court determined that admissions programs at Harvard and the University of North Carolina violated anti­ discrimination laws because they: (1) lacked sufficiently measurable objectives; (2) lacked meaningful end points; and (3) resulted in racial stereotyping.
A memo to the CU community from University Counsel emphasizes that the opinion was limited to admissions decisions and does not affect key practices used to promote diversity in student populations: administration of financial aid, recruitment and outreach, pipeline programs and employment of faculty and staff.
The University Counsel memo notes that the university does not use race as a positive or negative factor in undergraduate admissions, so the Supreme Court's decision should not impact the process. Graduate academic units that employ decentralized admissions practices will continue to be advised and counseled to ensure compliance with the Supreme Court decision.
A June statement from President Todd Saliman and the four campus chancellors following the Supreme Court's decision focused on the continued belief in campus diversity, stating, "We are steadfast in our belief that a vibrant and inclusive community leads to a richer educational experience for all, contributes to a positive society, and prepares our graduates to excel in an increasingly interconnected and diverse world."
The University of Colorado and its four campuses are proud to support and celebrate key programs that create a diverse campus environment. Initiatives like the Precollegiate Development Program, an academic enhancement program for first-generation students and families from targeted middle and high schools, are vital to helping students on their path to higher education. Through extensive advising and engagement with families, this program ensures that students are prepared academically, personally and socially to enroll in and succeed at the postsecondary institution of their choice.
At CU Boulder, we are expanding tuition and fee-free programs for Colorado residents, specifically the CU Promise and the Southern Ute partnership. CU Boulder also is building on long­standing support services and programs for first-generation and other students after they arrive on campus and seek communities to support their well-being and success. CU Denver formed teams of students, faculty, staff and community members who identified obstacles to equity and inclusion, then launched initiatives to make the campus a more welcoming place for all. The campus also offers scholarships for undocumented and DACA students to help with their higher education aspirations. UCCS commemorated heritage and awareness months throughout the year and launched the Inclusive Excellence and Belonging (IEB) action plan. The campus also has formed the Council on Inclusive Belonging to engage students, staff and faculty across the UCCS community to foster a greater culture of access. CU Anschutz has established the Department of Medicine Diversity, Equity, Inclusion and Justice Pilot Grant Program in an effort to conduct research, provide education, conduct advocacy, lead community engagement programs, or host events in underrepresented communities. The medical campus also is connecting to the greater Denver and Aurora areas through the Career Exploration and Science Exposure Opportunities program.
Further guidance on the matter is available from the Department of Education and Department of Justice and from the White House.