SPOTLIGHT
Therapy dogs take some of the bark and bite out of finals week
Animal interaction helps reduce stress at CU-Boulder libraries
The days leading up to class finals usually are defined by long nights, little sleep and overly caffeinated drinks. But for students and staff at the University of Colorado Boulder Wolf Law Building, it means the dogs are coming.
These are mellow hounds, happy to hang out with stressed-out students for a couple of hours, accepting all the hugs, belly rubs and head pats bestowed upon them. And while the dogs clearly enjoy the attention, it's the young, developing minds that benefit, forgetting all about case law for a few minutes and indulging in a little puppy pleasure.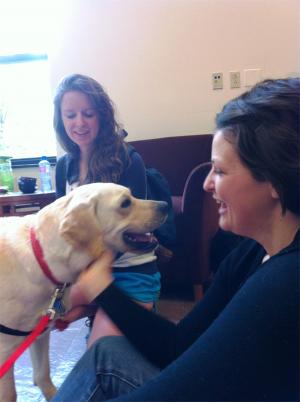 "Many times I've heard law students say this is their favorite time of the year," said Robyn Copeland, the William A. Wise Law Library's circulation manager. "And it's not because of the finals part."
The canines and their human handlers will be at the Wise Law Library from 11 a.m. to 5 p.m. April 25-29 (Monday through Friday).
It was three years ago that Copeland first coordinated the therapy dog program at the library. The name "Paws to Refresh" was chosen for the program to emphasize the proven positive results that come with interacting with pets. "It lowers blood pressure. This is especially good for people who have dogs back home and are missing them. You can tell who needs that unconditional kind of love," Copeland said.
Studies have proven that petting an animal increases levels of the stress-reducing hormone oxytocin and decreases production of cortisol, a stress hormone. Other benefits of interacting with animals include improved physical and mental health.
Jane Collier, a volunteer coordinator with Therapy Dogs of Boulder County, schedules owners and their dogs to come to the library twice a year during those onerous finals weeks.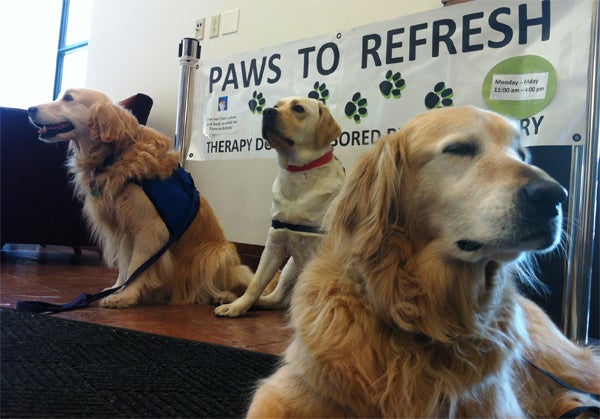 All of the dogs that participate in the library events on campus are registered therapy dogs, meaning they have been screened to ensure they have the necessary temperament and sociability to participate. Most of the teams who visit campus are registered with Alliance of Therapy Dogs, Pet Partners or Therapy Dogs International, Collier said.
At the law library, close to 30 dogs and their owners are available six hours a day for five days. Many of the dogs that participate are people-loving golden retrievers and chocolate Labs. But the library has hosted a variety of breeds, from a Brittany spaniel to a Samoyed to German shepherds.
Programs similar to Paws to Refresh are conducted at five other libraries across the Boulder campus. Copeland said that once other facilities "started getting the buzz, they would email me or stop by to find out more." Copeland would pass them on to Collier to talk about the therapy dog procedure.
Other libraries on campus that host the handler/dog teams with the help of Collier's scheduling are the William M. White Business Library, the Music Library, the Jerry Crail Johnson Earth Sciences and Map, the L.H. Gemmill Library of Engineering, Mathematics and Physics, and Norlin Library.
"College students today are under extreme pressure for a variety of reasons, and their anxiety and stress are compounded during exam time," Collier said. "Just spending a few minutes with one of our therapy dogs, in a nonthreatening environment, where they can reap the benefits of the tactile stimulation of petting a dog, will help to calm the student."
Both Copeland and Collier said they see "repeat customers" at the events, including some first-year law students who attended the first event.
"Dogs provide unconditional love, are nonjudgmental, and accept us for who we are. They are a wonderful example of living in the moment, enjoying life to its fullest, and how to relax," Collier said. "The best part of doing this work is the tremendous reward it provides to all of us – student, dog and handler. The students tell us repeatedly how much better they feel. I had one student say to me, 'This is by far the best thing the university has ever done for us.'"