SPOTLIGHT
Regents to faculty: Critical weeks ahead
Faculty Council group hears from leaders during year's first meeting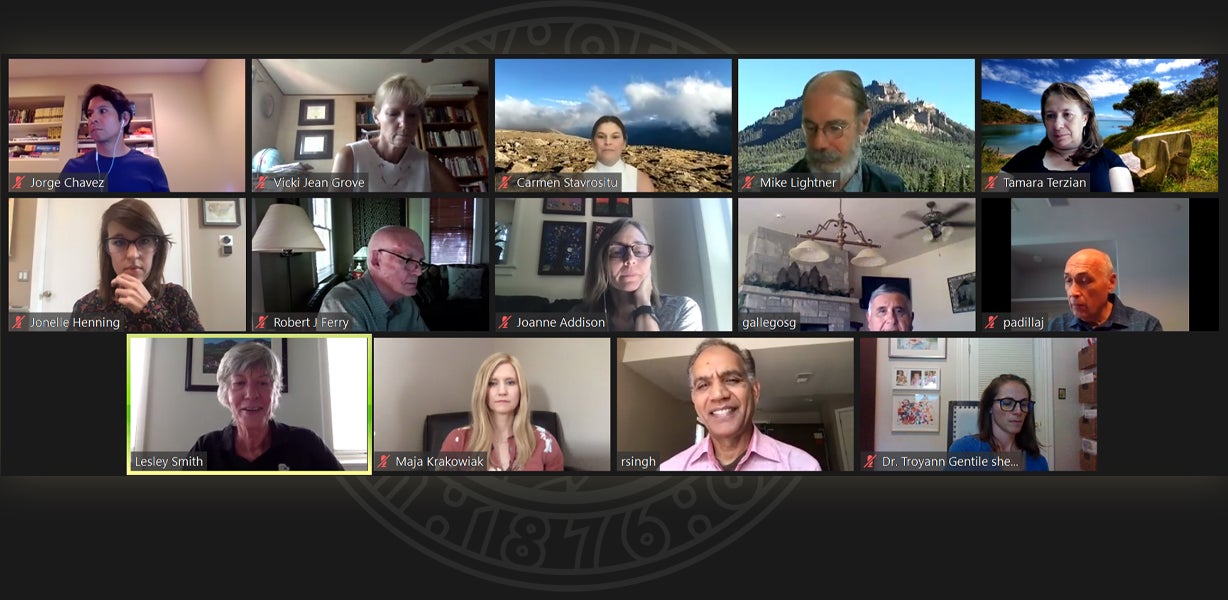 Editor's Note: In the original version of this story, President Kennedy was quoted referencing a "trail of tears" ahead if a revamp of online education doesn't succeed. Faculty Council leadership shared that the phrase was offensive. The president replied to Faculty Council: "I apologize for my poor choice of words. I have asked that the phrase be deleted from the electronic version of CU Connections and that we add an editor's note with my apology. I'm committed to fostering an inclusive environment at CU, where everyone feels that they belong. I recognize that words matter in doing that." The original quote has been deleted.
Updated story:
Faculty Council welcomed the chair and vice chair of the Board of Regents to the governance group's first meeting of the 2020-21 academic year, undeniably a time of uncertainty at CU and beyond.
"We are in a pandemic," Chair Glen Gallegos said during the meeting, held virtually via Zoom. "We've started school and found enough money to operate this year, but I don't think we're out of the woods yet. Our goal for the next year or so, maybe longer, is for us to survive.
"We've been around 144 years, but I think there is a great threat to how much longer we will be around if we cannot navigate" such challenges as diminished revenue and student retention, he said. "I don't think we'll be able to sell students and parents the model we have now. … I think we'll be looking at different financial models. I don't think we can do the dance where we wait for the state to tell us they'll give us 3% or 4% (of our budget) every year."
Gallegos and Vice Chair Lesley Smith said the next few weeks are critical as final enrollment numbers for the fall will be tallied, determining whether budget cuts will be required beyond those already made for the current year.
Gallegos said it's important for faculty and staff to feel they're part of the university's plan for moving forward, all the more so given the moment's civil rights challenges.
"If we're going to do anything, we're going to need to work together," Gallegos said. "Otherwise, we won't make it to the 145th year."
Gallegos is encouraged by work on the university's strategic planning process, well underway when the coronavirus pandemic led to a pause earlier this year. Critical work in online education also will be a pivotal part of CU's next steps.
Speaking later in the meeting, President Mark Kennedy answered questions about CU Online, emphasizing the importance of the endeavor as well as its challenges. He said CU's market share of campus-delivered degrees is three and a half times as great as its share of online degrees, while demand for the former is falling and growing for the latter.
"All of us need to get this right if we're going to continue to be a very meaningful contributor to the prosperity of our students and state," Kennedy said.
Development of CU Online paused recently in order to firm up a financial model that's sustainable.
"There's not a lot of cases where you've gotten four campuses to come together in a similar way," Kennedy said. "It's not an easy lift. But that is the path we remain on."
While CU Denver and UCCS "are furthest along online," Kennedy said, some of their program offerings overlap each other. "That doesn't work in the world we're operating in. They will continue to be very significant pieces of whatever assortment we put together."
Also during last week's Faculty Council meeting:
Regent Jack Kroll, CU Boulder Chancellor Phil DiStefano, UCCS Chancellor Venkat Reddy and others took part in a discussion on the economics of athletics at the two campuses. Kroll noted his previous criticism of athletics, citing moral and ethical objections, and said he'd like to see less university investment in sports.
Stephen Hartnett, CU Denver communication professor, described the efforts of the university's Colorado Correctional Industries (CCI) working group, which advanced a recommendation to President Kennedy. "This is kind of the best when we come together," said Faculty Council Chair Joanne Addison. "The students start something, we pick up the ball, the administration and regents join us, and now we're moving to something real that will make a difference. This kind of thing can be a model for more things we can all do and get behind."
Representatives of United Campus Workers Colorado discussed their efforts to grow membership across the university. "We are not endorsing (the union), but we are saying some of our priorities align," Addison said. "This conversation is useful."