SPOTLIGHT
Q&A: John D. Griffin, director, Conference on World Affairs
In first year at helm of event, faculty member elevating access, fundraising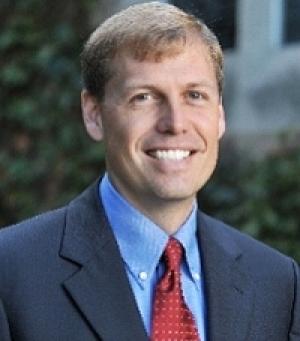 John D. Griffin is honored to be director of the "beloved Boulder tradition" – the Conference on World Affairs (CWA) – now in its 67th year at the University of Colorado Boulder. The event begins Monday and features 100 participants from around the world and 200 sessions with titles such as "The Pope Francis Revolution," "Please Trip Responsibly: Consumption Beyond Alcohol," "The End of American Exceptionalism" and "Better Than an Apple, a Poem Every Day."
This is the first year Griffin has directed the event – he took the reins of the program on June 1, 2014. An associate professor of political science at CU-Boulder, his research focuses on political equality in political institutions. He has written extensively on the subject, and his most recent work – a book he wrote with a colleague about the failure of representation in the American South – has just been sent to a university press. Besides overseeing the conference, Griffin also directs the CWA Athenaeum, which brings speakers to the campus throughout the year.
Much of his time is devoted to fundraising, planning and outreach for the five-day, free event, which attracts more than 77,000. This year, CWA's audience will be even bigger: Events at Macky Auditorium, the University Memorial Center (UMC) center ballroom and UMC room 235 will be streamed live, and audio recordings from all of the sessions will be available within 24 hours after the event on the conference website; video on demand will be here.
Griffin graciously took some time from his busy schedule to answer a few questions about this year's conference.
1. What goals did you have for the conference this year?
My aims this year were to improve fundraising and to enhance student and faculty engagement. Already, we have raised more this year than last year — a new record — partnering with Assistant Dean for Development Lissy Garrison and her team. To further improve campus engagement, we are piloting a program that will have CWA speakers make an appearance in CU-Boulder courses.
2. In your few months as director of CWA, what stands out for you?
The CWA is the event that makes the single largest contribution to the civic life of the greater Boulder area.
3. Speakers pay their own way to the conference and are not paid honorariums to appear. How does this affect the dynamics of the event?
I think that these norms facilitate the recruitment of speakers who want to make the most of their stay – to spend the entire week with us, to get to know the students and community members who plan the conference, and to interact with other speakers informally.
4. How do you determine topics for the event and how do you determine invitees? How many staff members/volunteers are involved with the conference?
The conference has just 3.5 full-time employees and does not hire an army of temporary employees just prior to the event. We can get away with this because we have well over 100 volunteers on our planning committee who work (individually) in many cases hundreds of hours each year for the CWA. These committee members make invitations to and recruit our speakers each fall and then arrange the speakers into panels each spring. The panel arrangements are aided by the speakers' submission of "topics" – issues the speaker is interested in addressing during their stay with us.
5. Is there a person (or persons) you wanted to speak at this year's conference but were not able to woo?
We were very much hoping to lure one of the Republicans likely to run for president next year. We got close.
6. This year's conference sessions will be accessible online. What are your goals for an online presence?
Online viewing is an important avenue for us to grow the impact of the conference within our venue constraints. It also allows us to reach people who cannot attend, be they at work in Boulder or at home in Gunnison.
7. What is the first thing you will do the day after the conference is finished?Z
I will begin the process of evaluating what went well at this year's event and what challenges we need to address for CWA 2016. I would like to identify ways to further diversify our audience and to connect the conference even more to the needs and concerns of Boulder and Colorado.