SPOTLIGHT
Presidential Finalist Saliman meets with campus communities in public forums
Attendees urged to provide input for regents' consideration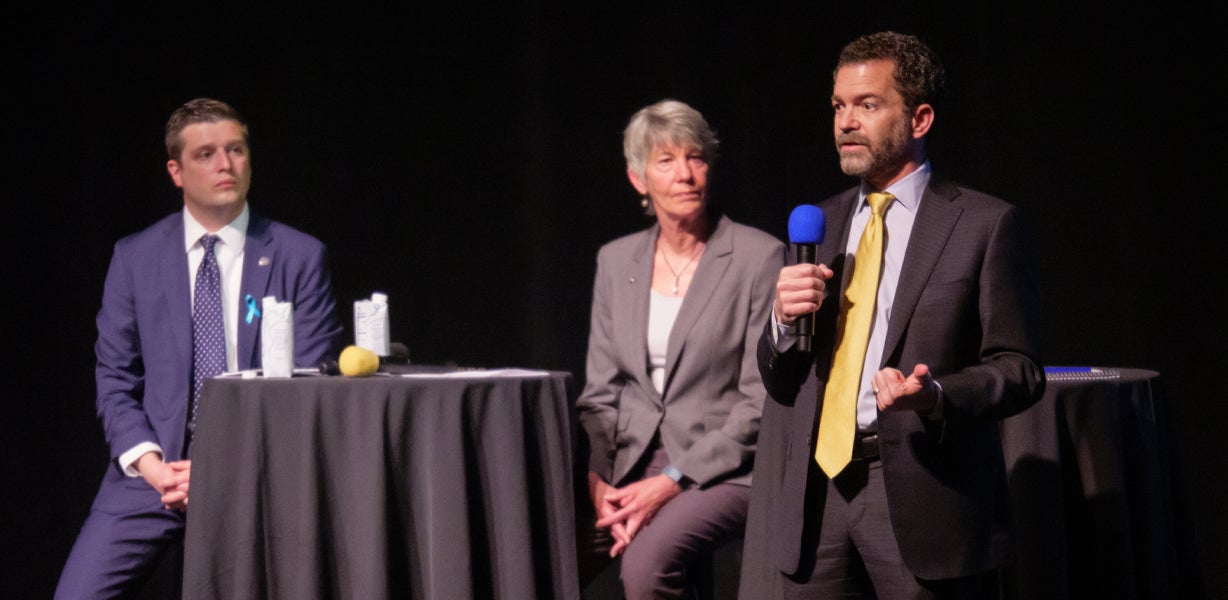 Glenn Asakawa/University of Colorado
CU Presidential Finalist Todd Saliman engaged with faculty, staff, students and other community stakeholders in a series of public open forums hosted by the Board of Regents on all four campuses this week. Saliman, who has served as CU's interim president since his appointment by the board in July 2021, will meet with system administration staff in an open forum scheduled for 11 a.m. today.
The campus open forums were held April 18-21 with each moderated by Board of Regents Chair Jack Kroll. Regent Lesley Smith, who served as chair of the presidential search committee, offered an overview of the search process to audience members who attended both in person and via livestream.
Saliman, a Colorado native and CU alumnus, took the stage following an introduction from Kroll and offered a brief synopsis of his career. "I'm honored and humbled to have been selected as interim president, and to potentially have the opportunity to lead CU into the future," he said before fielding audience questions. CU stakeholders were able to submit questions for Saliman in advance of each forum, and attendees posed questions of Saliman in person and online during the forums.
Diversity, equity and inclusion, fiscal challenges and his decision to apply for the presidency were just a handful of topics Saliman addressed in response to audience questions.
When asked by an audience member at CU Denver how he would prioritize improving the working conditions and equitable treatment of non-tenure-track faculty at CU, Saliman said that faculty and staff compensation is one of three "big, expensive things" Colorado higher education institutions need to work to improve. Increasing financial aid for students – Saliman noted that CU has $3 million in documented unmet need systemwide for resident undergraduate students – and maintaining and improving university facilities are other areas of priority according to Saliman.
"To be able to pay for all this and make meaningful progress in these areas requires us to change the conversations about funding and higher education in Colorado, and that's what our outreach work is all about," Saliman said. "When we're talking about our annual compensation increases, we need to make sure we're including (non-tenure-track) faculty in the conversation. That's a priority for me. But to make really meaningful progress, we're going to need additional funding from that state. We're going to all need to work on this together and have conversations with voters about this challenge."
CU's presidential search launched in September 2021 when the Board of Regents began holding listening sessions with more than 40 stakeholder groups across CU and the state, in addition to soliciting written comments. Describing the process as "very inclusive from the get-go," Smith briefly discussed selecting a search firm with a track record of success in attracting high-caliber, diverse candidates, and forming the search committee that included "19 individuals who reflect the diversity of our great state." Finally, Smith urged all attendees to provide their feedback on Saliman via the candidate survey, which will remain open through 5 p.m. April 26.
In his introduction of Saliman, Kroll noted his collaborative style and the respect he has earned across CU and statewide over the course of his career. "Mr. Saliman stood out during the (search) process for his experience, his knowledge of Colorado and CU, and his ability to work with multiple stakeholder groups to advance the mission of our university," Kroll said. "Mr. Saliman's career has prepared him for the position of president."
Saliman's participation in the campus open forums this week is one of the final stages in the presidential search process before the Board of Regents takes a final vote next week to elect CU's next president.
To watch videos of the campus public forums, please click on the links below:
To provide your input on presidential finalist Todd Saliman, complete the candidate survey before 5 p.m. April 26.