SPOTLIGHT
Physician burnout a creeping epidemic in health care
CU Anschutz-sponsored conference to explore tactics for boosting doctor wellness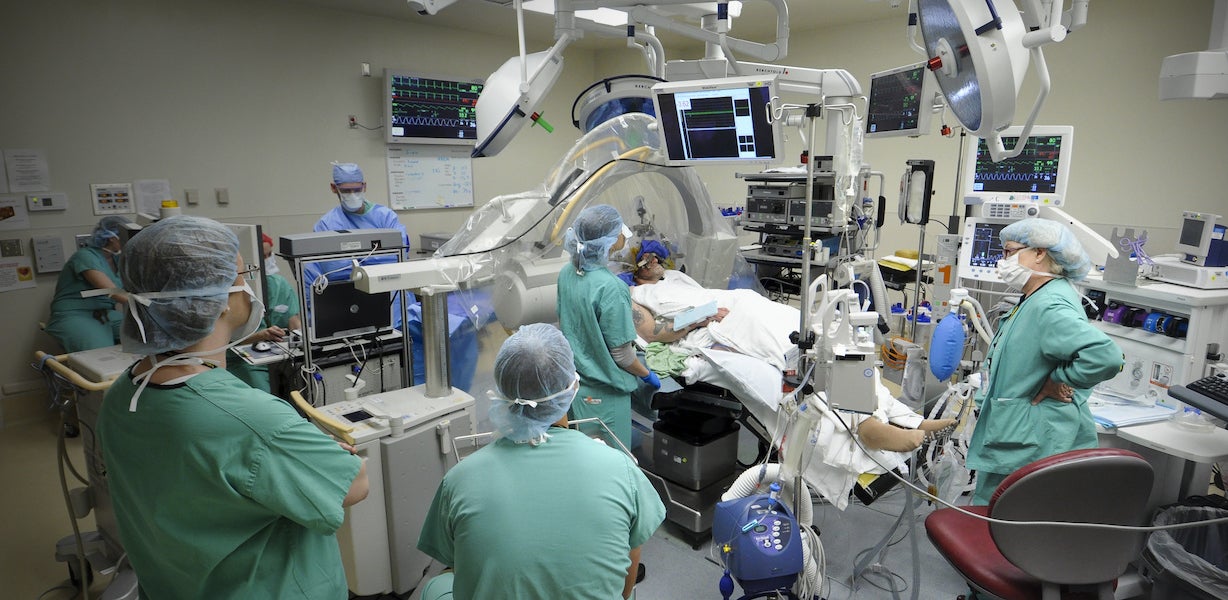 More than half of United States physicians experience substantial symptoms of burnout, with consequences that extend to family, patients and the entire health care system.
An upcoming conference sponsored by the University of Colorado Anschutz Medical Campus will focus on the causes of burnout and examine tools and resources available to mitigate burnout and achieve holistic wellness.
Titled "Physician Burnout: Integrated Strategies for Diverse Stakeholders," the conference is set for May 10-11 in Beaver Creek.
Oftentimes, physicians are unaware of what is happening to them or they may be immersed in a culture of silence, said conference director Deborah Saint-Phard, a physician board-certified in sports medicine, and director of CU Women's Sports Medicine.
"People go into this profession to express their compassion and care. They go in with open hearts and bright minds and the vision to save the world, and they end up not doing well (personally)," Saint-Phard said.
Today's physicians spend more time preparing reports and justifying patient treatments to insurance companies, and because of that, spend less time with patients. Work hours spill into home life, and professional satisfaction diminishes.
"Part of the problem is the increase in regulatory demands," Saint-Phard said. "Physicians are being asked to do things that are not at the highest level – data entry, typing, electronic medical recording – the metrics that contribute to (their) not feeling they are doing what they have been trained to do. Physicians are happiest when they are providing good care, and there are lots of barriers to doing that."
These extra burdens lead to work/life imbalance, Saint-Phard said, with physicians working from home dictating or reading medical literature, what is known as "pajama time."
The results of burnout can be devastating. Physicians might cut back their practice hours or leave medicine entirely. Quality of care declines, which results in more patient complaints. Medical errors escalate, and physicians have lower patient satisfaction interactions and might witness an increase in lawsuits filed against them.
"All of this stems from a decreased ability to express empathy," Saint-Phard said.
Burnout can cause an increase in substance abuse, auto accidents, stress-related health problems and marital and family discord.
"There is a lack of sense of control over what is happening and a loss of meaning when it comes to work and being present with patients," she said.
In addition, the suicide rate among female physicians is 2.3 times higher than women in the general population; among male physicians, the rate is 1.4 times higher than men in the general population.
There are societal costs as well. Burnout leads to decreased access to medical care because there are fewer physicians available.
"We are having to replace two to three medical classes of physicians each year. And the cost to recruit a new physician can be up to $1 million," Saint-Phard said.
She said burnout begins as early as medical school and can accelerate through residency and practice as doctors hold themselves to standards of perfection and a model of self-sacrifice. But doctors who take care of themselves are better role models for their patients and their children, and they have higher patient satisfaction and safety scores. They also experience less stress and burnout and live longer, according to research.
One initiative being implemented as a remedy for the paperwork burden, for instance, is to have medical assistants in the exam room who perform data entry. The practice increases the patient/physician interaction and aids workflow.
"The conference aims to increase the awareness what might be going on in our culture," Saint-Phard said. "We need to look out for each other."
Conference speakers will address burnout factors, ways to prevent the problems, and what the medical community can do to mitigate the issues. Sessions include:
"The Epidemic of Physician Burnout" - Kathleen Gibney, Ph.D.: As director of the Center for Physician Wellbeing at Florida Hospital, Gibney has expanded the direction of the Physician Support Services Department to focus on prevention of burnout and building resiliency.
"Introduction to the Use of Ethics-Based Case Model to Physician Burnout" - Matthew Wynia, M.D.: Wynia's research has focused on novel uses of survey data to inform and improve the practical management of ethical issues in health care and public policy.
"Relationship-Centered Communication for Healthcare Transformation" - Patrick Kneeland, M.D.: As executive medical director for patient and provider experience at UCHealth, Kneeland develops and promotes organization strategies and improvement efforts that enhance patient and provider experience and engagement.
"Evidence for Self-Compassion and Strategies for Personal Resilience" - Doris Gundersen, M.D.: The medical director of the Colorado Physician Health Program, Gundersen will discuss the importance of self-care in order to maintain resilience while facing stressors.
"Steps Forward" - Christine Sinsky, M.D.: A board-certified internist and vice president of the American Medical Association, Sinsky has worked to "elevate national awareness of health professional well-being as an important driver of health system performance and has led development of initiatives to reduce burnout."
"The Reading Cure for Physician Resiliency" - Abraham Nussbaum, M.D.: The chief education officer at Denver Health and an associate professor of psychiatry at the CU School of Medicine, Nussbaum has received a grant to study alienation among physicians.
"Moral Distress, Giving Voice to Values" - Heather Fitzgerald, R.N.: An ethicist at Children's Hospital Colorado, Fitzgerald will discuss literature that has correlated "moral distress" as a high indicator of burnout in nurses.