SPOTLIGHT
As pandemic continues, CU leadership considers tuition, student aid ramifications
President Kennedy boosts emergency funding as Board of Regents rejects tuition discount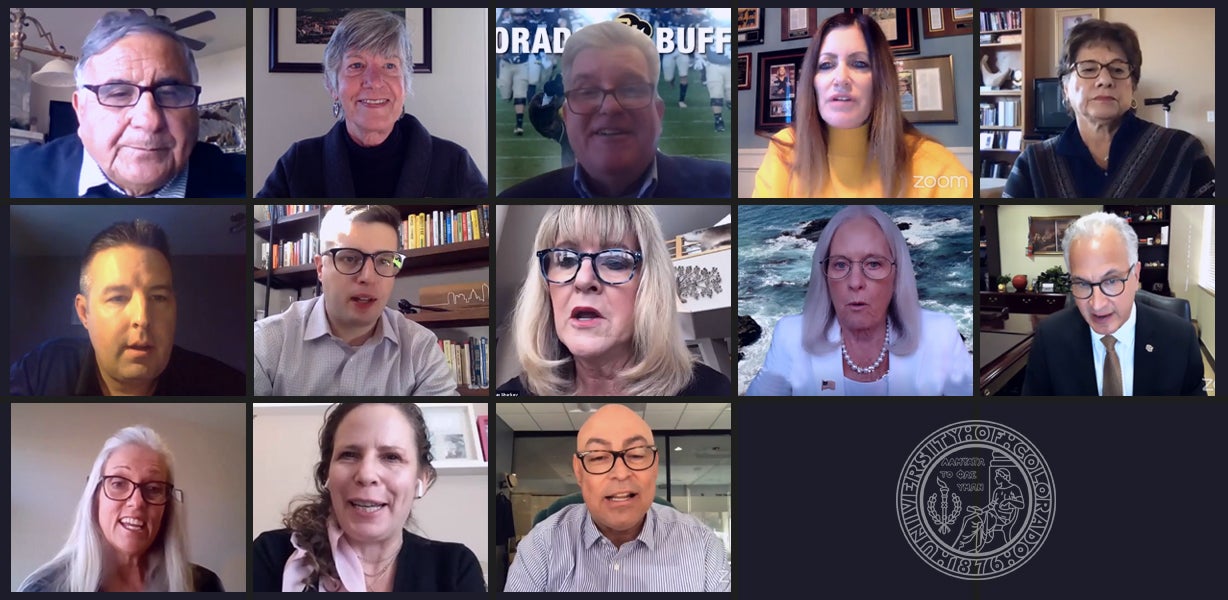 The Board of Regents last week defeated a proposal calling for a 20% tuition reduction and waiver of some fees in spring 2021, action also opposed by faculty and staff leaders and President Mark Kennedy.
In the lead-up to the 6-3 vote during the Nov. 12 meeting, Kennedy announced new funding of $5 million via the CU Foundation to be made available to the campuses for emergency funding or mental health needs related to the coronavirus pandemic.
The amount results in a total $12 million in pandemic relief for students. The president previously requested $5 million for students facing financial hardship during the fall semester; the CU Foundation approved that, as well as $2 million for mental health needs.
Kennedy touted the merits of targeted relief funding over the notion of a 20% tuition reduction, which he said would result in deeper budget cuts and furloughs than those already stressing the university.
"I am highly appreciative of the extra effort and dedication our faculty and staff have expended to ensure we advance our students along their path to achieve their educational goals," Kennedy said.
In a joint resolution – said to be a first – by the Faculty Council and Staff Council, the governance groups formally voiced opposition to the tuition reduction proposal. Faculty Council Chair Joanne Addison said such a discount "would be devastating" to faculty and staff. Staff members already are expressing low morale, said Staff Council Chair Ryan Untisz.
During public comments, faculty members Neil Box of CU Anschutz, Michael Zinser of CU Denver, and UCCS' David Weiss, who said he also spoke on behalf of CU Boulder faculty, all voiced opposition to the proposal. Regent Sue Sharkey, R-Castle Rock, also spoke against it; she said things have changed since she first expressed support of a tuition reduction in August.
Regent Heidi Ganahl, R-Lone Tree, introduced the resolution, and was joined by Regents John Carson, R-Highlands Ranch, and Chance Hill, R-Colorado Springs, in voting to support it. "Reducing tuition by 20% for students enrolled full-time during the Spring 2021 academic term is an appropriate means of recognizing that the COVID-19 pandemic has led to adversity for these students and families," the motion read in part.
CU Boulder student Sophia Volk, on behalf of Too Much Tuition, CU, was the only student who appeared during public comment to express support for the proposal.
Kennedy noted the pandemic's impact on CU's costs, and stressed how the university has boosted financial aid for students in need.
"We have expended great resources to ensure the health and well-being of our students, faculty and staff and surrounding communities. And those costs have not been passed on to the students," Kennedy said. "We are at our third year at the same tuition rate and face lower government funding."
Because of increases to student aid, Kennedy said, a student's out-of-pocket cost for a CU degree is lower in real terms today than it was seven years ago.
Increases in financial aid were detailed in a report to the board by Todd Saliman, senior vice president for strategy, government relations and chief financial officer. He demonstrated an online estimator tool that helps students and families calculate out-of-pocket costs for a CU education.