SPOTLIGHT
Hard Call: Exploring shades of gray in medicine's difficult choices
Role playing, audience participation enliven ethics forum at CU Anschutz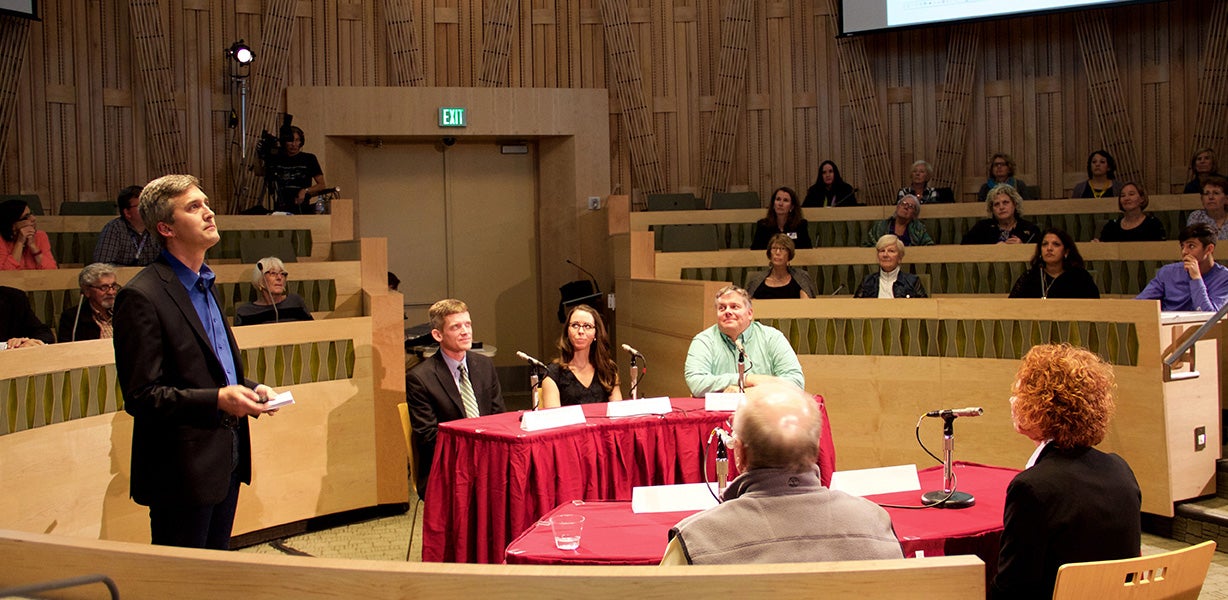 Physicians must often lay out medical options for their patients, including people who may be facing death. But what if the only available options are "bad" ones for the patient? Should you tell a desperately ill person about a course of treatment that might offer a glimmer of hope – but that also comes with big risks and a big price, emotionally, physically and financially?
This scenario is just one type of ethical dilemma that doctors and their teams constantly face and it is the subject of a recent forum named Hard Call, a program in development at the Center for Bioethics and Humanities at the University of Colorado Anschutz Medical Campus.
The program is roughly based on a combination of PBS' Fred Friendly Seminars – where a roundtable of experts discussed complicated, often thorny issues – and the TED Radio Hour aired on National Public Radio, which features talks from innovative leaders.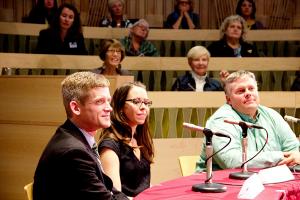 "When I first interviewed for this job, I was shown the Fulginiti Pavilion, and I thought it was made for an interactive session where people would speak to each other across the circle," said Matthew Wynia, director of the Center for Bioethics and Humanities. He remembered the Fred Friendly Seminars, and thought he could take the idea up a notch.
His plan for a program that discussed medical ethics from a variety of viewpoints has continued to evolve in recent months, said Wynia, who worked part-time at CU for nearly a year, commuting from Chicago where he held positions with the American Medical Association and the University of Chicago. When he moved to Colorado in July, he began working with Elaine Grant, a public radio reporter and producer, to transform the idea into a reality.
Instead of a moderator asking questions of the panelists, the participants play out an entire story somewhat akin to improvisational theater. The participants are assigned roles and receive a mini biographical sketch to help them understand their characters. The storyline includes junctures at which difficult decisions must be made, and a response system engages audience members who can vote on what choice they believe would be best for a patient.
A pilot production of Hard Call held in October focused on the ethical and medical questions raised by the use of electronic hearts. The devices give some patients a choice between death and life, but with significant risks. In addition, it is a life that is "plugged in," where the recipient must always be attached to a power source.
"If a doctor goes into a patient's room who is in heart failure and tells them they are likely to die, but there is a device that will help them live, the most likely response will be 'give me the device.' But it is more complicated than that," said Riley Bright, the community outreach coordinator for the Center for Bioethics and Humanities, who also coordinates logistics for the Hard Call program.
The forum discussion centered around what sorts of things a patient needs to know and the concerns of family members. Using the device includes a long list of complications and risks, from the open heart surgery needed to implant the device, to infection, to constant care for three or more months, and a local home set-up that would support the patient and the device, Bright said.
During the pilot program, individuals playing the roles included a cardiologist and nurse practitioner with university ties, "so we weren't asking them to stretch as actors, because they are not actors" but health professionals who are intimate with these types of dilemmas, Wynia said.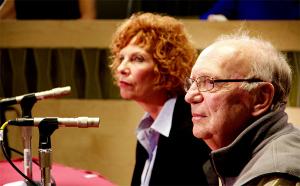 "Our patient was Carl Miller, who was one of the first Coloradans to receive a heart transplant with one of these devices almost 20 years ago," Wynia said. "We were lucky to have him there. He actually was outstanding as someone who understands what it feels like to have advanced congestive heart failure and what life is like for someone facing these decisions." While using the device, Miller suffered a small stroke, another risk of using the device.
None of the participants knew how the story would play out except for Wynia, who acted as moderator, and had spent months developing the storyline.
Hard Call doesn't stop with the live event.
"I hate to say this, because it took so much work, but the live event is relatively minor in the grand scheme of things," Wynia said. About 100 people attended the October event, but Wynia hopes thousands will download and listen to an upcoming series of five to eight podcasts that will be produced using the live event as a base. He is working with Grant to develop the podcasts.
The podcasts will examine several issues addressed in the live event and explore them more fully through additional information, including interviews with experts.
"For instance we might discuss how a doctor makes decisions about who will be offered this very advanced technology with a lot of risks and costs. One of the questions that often arises is, at what point in a patient's illness do you decide to bring this up? Or do you never bring it up with this patient because you don't think they would benefit from it or it would be too risky," Wynia said. "Some people might say that the decision should be left to the patient, but the moment you bring up the option, it puts tremendous pressure on the patient and the patient's family."
Wynia said it is just one of the ethical dilemmas doctors must frequently face: doing what is right for the patient while also respecting a patient's autonomy to make decisions on their own.
He hopes to release the first podcast by the end of the year, but admits it is an "aggressive timeline." Once finished, the recordings will be available through outlets such as iTunes and the Public Radio Exchange. Rocky Mountain PBS also recorded the live event and plans to upload a webcast of it on their website.
Wynia's goal is to produce a live event quarterly, but to do so, the center will need extra funding to employ a larger team to develop the Hard Call program. He has applied for funding through the National Endowment for the Humanities.
Besides the podcasts, Wynia hopes to develop curricular materials to be used in health professional training programs in medical, nursing and pharmacy schools.
Future Hard Call topics might include a discussion centering on mental health; the cost of medications; a specific issue relevant to Colorado such as marijuana; and assisted death, which has been debated both locally and nationally.
To find out more about the program, follow on Twitter @HardCallShow or on Facebook at Hard Call Show.