SPOTLIGHT
Five questions for Tess Jones
Painting a picture of the role of humanities in medicine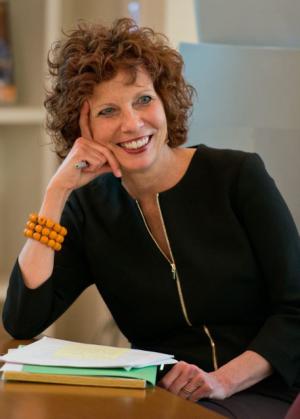 At some point in our lives, we are patients.
"When that happens," says Therese "Tess" Jones, "we want cutting-edge treatment, the best surgeons and world-class researchers. We want all of that, the science of biomedicine, but we also want the arts and humanities. We want to be heard, we want our stories acknowledged, and we want recognition of the complexity of our human needs and those of our families."
Some people "think of medical humanities as frivolous or simply enrichment, but over the years, I've witnessed a strong political and social advocacy in which the arts are critical," she says.
Jones is associate director of the Center for Bioethics and Humanities, director of the Arts and Humanities in Healthcare Program at the University of Colorado Anschutz Medical Campus, and an associate professor in the School of Medicine's Department of Medicine, teaching health humanities and disability studies.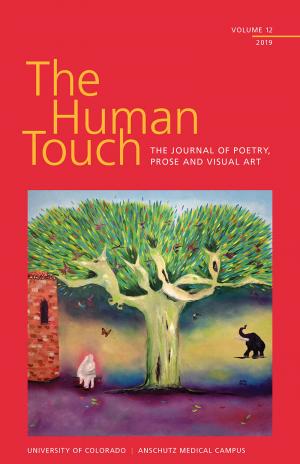 Along with writing, teaching, scholarship and service, she has developed curricula and educational programs; oversees the Art Gallery at the Fulginiti Pavilion, and the publication of the center's literary and arts journal, The Human Touch; is the faculty adviser for the Music in Medicine Initiative; and is the editor of the Journal of Medical Humanities​ and lead editor for the Health Humanities Reader.
Jones has won numerous awards and accolades, including a 2014 CU Thomas Jefferson Award, which honors those who advance the ideals of Jefferson.
"It was such a major honor and recognition for me, and it is more special because now I am on the committee that reviews the nominations," she says. "The award meant a lot to me because it is a democratic award, given by the students and staff and faculty. I have to say that in my long career and in this environment, it has meant the most to me."
Away from work, Jones is a runner, loves cooking and is a painter.
1. How did you transition from degrees in English to medical humanities?
I started my Ph.D. in English at CU Boulder in 1982. I was working in American literature, in modern and contemporary drama and gender studies at the time. I began to become aware of a terrible, and, at the time, lethal new disease, which eventually became understood and labeled as HIV-AIDS. Biomedical science did not have a clue as to what was going on, but what I saw were the arts filling in a lot of the gaps in information and addressing concerns and stigma. It was immediate and it was incredibly diverse and relevant. Theater became a sort of public forum for not only informing people about what was happening as we knew it in real time, but also humanizing who was affected. It was an epiphany. I began to see how cultural materials were as significant as biomedical research or medical care in understanding and addressing a terrible epidemic. And that is how I moved from a traditional discipline like English to something very interdisciplinary and applied like medical humanities.
After I finished my Ph.D. in '90, I was teaching at Boulder in the humanities department. I started a course on AIDS and American culture, one of the first of its kind at a major university. I crossed paths with a psychiatrist who said I was doing medical humanities, and in 1994, I went to a medical school in Ohio for a three-year postdoctoral fellowship in medical humanities.
I came back to CU in 1997 and joined the Center for Bioethics and Humanities. It was a relatively new program and very focused on bioethics, but it had added humanities, and so they needed someone like me. I was recruited to another institution in 2002. Happily, in 2009, I was recruited back here to develop the Arts and Humanities in Healthcare Program. I guess I just can't leave the University of Colorado. Every time I stray, I come back.
2. You mentioned that as patients, we want caregivers to hear us. How does focusing on humanities prepare students to become better medical professionals?
In my field, there has always been a question of, "Why?" Why, in an already packed School of Medicine curriculum, do we have humanities classes and programs? What instrumental value do the humanities and the arts bring?
I'll give you an example in terms of observational skills. We have two required sessions with medical students that we have developed with staff from the Denver Art Museum. Our students look at works of art in order to become better and more conscientious observers. Those skills are important when they are thinking about relationship building, understanding why a patient is seeing them or what a patient may be saying or not saying.
The art sessions are interesting because it immediately makes us all aware of how differently we see things. You may see something that I didn't see at all. Maybe my eyes went somewhere else, or I didn't pay attention to a particular piece of visual information. It's important because practicing medicine is a team sport – it takes a lot of different observers and a lot of different critical thinkers. Everyone on the health care team brings a certain skill or perspective or expertise to a situation.
Perhaps more indirectly, when it comes to arts and humanities, is that a deep engagement with them models and sharpens critical thinking skills and offers opportunities to foster empathy and compassion.
In the current issue of Academic Medicine, there's a piece about 21st-century medicine and artificial intelligence (AI) and the fact that patients have access to a lot of information that is brought into patient-professional interactions. But the one thing the author keeps coming back to is compassion and how compassion is crucial and integral to the professional-patient relationship even as we rely more and more on AI.
The arts and humanities are a way into compassion and understanding because they offer opportunities to tell stories or hear stories or to learn from stories to understand different ways of being. Besides sharpening clinical skills like observation, communication and narrative competence, the humanities and the arts remind of the mystery of human experience. They help us cope with the vicissitudes of moral and mortal life.
One example of this was a project with fourth-year medical students that I was involved with. They went into the Emergency Department with 3- by 5-inch cards. On the top of the card was the question: What worries you most? At the bottom was age, gender and a scale about the acuity of the problem.
Students later talked with the patients and found that more than 90 percent were not worried about what brought them there; it was other things. It was, for instance, how to pay for the visit or whether their daughter would go back to drugs, or the Trump administration. We created an exhibit at the gallery with those cards. Then we made cards available to visitors who could fill them out and clip them to wires we placed on a wall. The silent conversation that took place in the gallery was amazing and we are doing a publication on the project. People weren't worried about seeing a physician or being in the ER; they were worried about their families, their finances, their children, where they would sleep and whether they would be able to make it another week.
We can talk about how people have complicated lives, but this was a startling reminder that what we think is going on may not be what is going on at all. The humanities and arts offer the opportunity for more understanding and empathy and deeper exploration, because healing is the result of much more than what is on the electronic medical records or what the lab tests say.
3. How do you choose what is shown in the gallery and are there other ways you engage students and the community in the arts?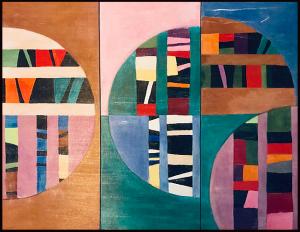 We have a curator of exhibitions, Simon Zalkind, who has long been an independent curator in the city, and who was part of the initial conversation about this building, which is an incredible and unique facility, not just for CU, but for the majority of health science centers in the country.
For the most part, Simon and I invite artists to show in the gallery. We don't have a budget line; we operate the gallery through gifts or university support. We do have a mission statement that describes the art we exhibit as having some connection to the human experience of illness and disease or the history of biomedical research, but we don't take it too literally. We have exhibited work that in many ways serves as an opportunity for healing in the broadest sense of the word for patients, families, faculty, staff and students. We have had exhibits that focus on the devastating history of biomedical research, such as what happened in the Holocaust or that tell the visual stories of wounded soldiers, and we have brought in beautiful works of art so that the gallery is a place to seek solace and comfort and celebrate the human imagination.
We opened in 2012 and we have welcomed approximately 65,000 visitors. We have three major exhibits every academic year and then we open it up in the summer for special local exhibits. Right now, the Aurora Artists Guild is in the space, and the Art Gallery has become one great way for the campus to reach out to and collaborate with the community. Last summer, the Department of Surgery commissioned an artist, Arturo Garcia, whose life had been saved by a surgeon in the department, to create incredible portraits of different individuals whose lives were changed, transformed or saved by our surgeons. We brought those portraits into the gallery and it was an extraordinary exhibit for the former patients and their families. At the opening, the chair of surgery talked about the importance of balancing the art of medicine with the science of medicine.
We tend to be entrepreneurial and practical in our choices and are always looking outside for diversity in arts. In March 2020, for instance, we'll exhibit the work of Daisy Patton, who has created needlepoint portraits of minority women from the 1970s in California who were sterilized by force. Many of their stories have been lost.
4. How has health care humanities evolved over the years?
In the late '60s and early '70s, the development of technology was an important element in health care and with that technology, we had to grapple with end-of-life issues, beginning-of-life issues, organ transplants, and reproductive technologies. That's when the field of bioethics really developed. Medical humanities grew up with bioethics, although it wasn't as prominent. But there was a concern among educators that medicine was becoming so technological, the humanistic piece of it was getting lost.
The notion was that bringing people like me into medical education would be a corrective, that teaching literature, visual arts and philosophy, was crucial. Some medical schools saw more value in that than others but teaching and scholarship usually fell to a single faculty member such as an English professor or religious studies professor. When I entered the field, it was still growing in terms of education and scholarship, but we were still very marginalized within health sciences.
That has changed. The humanities have become a place in which cultural conversations around values, cultural and sexual identity, and disability issues can be explored and brought into a focused and rigorous medical education.
The other thing that is different is that the days when students had to choose either humanities or bioscience are past. Universities have fostered interdisciplinary learning, in part because of the very nature of the students coming in who are interested in the social and political elements of health care.
Finally, I would say that the American Association of Medical Colleges, which is the credentialing body of all the medical schools in the United States and Canada, has made it a priority in the past few years that the humanities and arts in medical education are as important as the social sciences and biosciences.
5. What are some of the programs or curriculum you have developed at the university?
One of the things that I have been engaged in, especially since I've been back at the university, is developing programs. The Health Humanities minor has been a successful collaboration with the College of Liberal Arts and Sciences at CU Denver. I take such joy and pride in that program, which is the most popular interdisciplinary program on the downtown campus. Six of our entering medical students this year were Health Humanities minors. The students in that program are not just premeds, they are in public health, physical therapy and psychology.
The Graduate Certificate in Health Humanities and Ethics has been wonderful as well, especially because of its diversity. We have retired physicians, medical students, artists, staff members and social workers around the table in seminars in ethics and humanities to explore issues.
I'm also doing more in terms of advocacy, which takes me back to where I started. I taught a new film course last fall on health care and advocacy and I truly loved it. I'm also cooking up a big publication project on media and health care.
I teach a course on film and mental illness to medical students and graduate students and have found a lot of excitement and a lot of curiosity in terms of media representations and the intersection of media and health care, especially as an advocacy tool.
The question I like to ask is how these representations reinforce stigma. Misrepresentation not only transmits bad information to the viewing public, but it also affects public policy. In some cases, misrepresentations can even affect treatment. As an example, we have a long history in American film – "One Flew Over the Cuckoo's Nest," for example – surrounding electroconvulsive therapy (ECT) and how it is represented as torture. It's shown as this terrible, primitive thing done to patients. That image is so prominent in people's minds that some providers in places like California don't offer the treatment, and it is actually a very successful treatment for serious depression.