SPOTLIGHT
Five questions for Mitchell Handelsman
Psychology professor pays forward rewards of his own education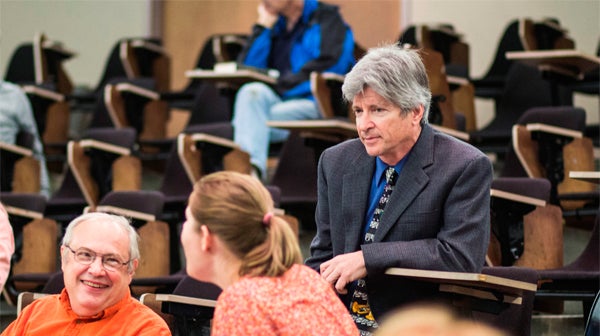 Nearly everyone can point to an educator who made an impression on them, and that includes Mitchell Handelsman, whose college experiences with mentors and other professors not only pushed him toward the study of psychology, but also prompted him to "pay forward" the courtesies.
"Tons of people influenced me. They opened my eyes to new worlds, including academia and the world of the mind," he said. "The people I liked the most were the psychology professors, so I figured that was a good enough reason to study psychology, and I haven't looked back from there."
Handelsman is a professor of psychology at CU Denver whose scholarship focuses on professional ethics. He has won numerous teaching awards since he joined the university in 1982 and is a University of Colorado President's Teaching Scholar. His publications include several books – two released this year. He also has a blog at Psychologytoday.com titled"The Ethical Professor."
1. Why did you choose to focus your research on ethics? Is ethics something a person is taught or is the foundation inherent?
When I was a kid, my family would buy a lot of board games. When we brought a new game home, they would open the box, spill out all the pieces and start playing. I was the obnoxious kid who said, "Wait! We need to read the instructions first!" As an adult, I'm perhaps a little less obnoxious, but I still want to read the instructions first. So, for example, I did a decade of research on informed consent in psychotherapy. The idea is that when patients start therapy, they should clearly know the rules. That research pointed me toward other ethical issues.
There's a lot of debate about what parts of the brain have to do with moral reasoning and how much is hereditary. What I do know is that the ethical traditions and principles of any profession are not inborn. We don't have legal ethics, we don't have medical ethics and we don't have psychological ethics in our DNA. People need to integrate their professional and personal ethics as they train to become professionals and there are certain ways to influence people in that direction. A lot of the work I've done is focused on how people move from being nice people to being ethical professionals.
For a long time, people said we shouldn't or needn't teach ethics in graduate training programs or professional schools because "people are either ethical or not." People said ethics is just common sense. But things like HIPAA (Health Insurance Portability and Accountability Act), confidentiality, and all kinds of other ethical and legal issues are not common sense, and thinking about them takes skills that can be learned and practiced.
To say that someone is unethical is making what we call in psychology the "fundamental attribution error": attributing too much of the cause of a behavior to the person rather than to external situations or other factors. There are good people who have lapses of judgment or do really stupid things during times of weakness, or when they are undergoing situational pressures. The vast majority of people who behave unethically don't behave unethically every single day; they sometimes don't make the best decisions they could.
2. What is the state of ethics in professions today?
It's a little bit better than it was before June 15 because that's when our latest book came out! I wrote "Ethical Dilemmas in Psychotherapy: Positive Approaches to Decision Making" with my colleagues Samuel Knapp and Michael Gottlieb. We look at ethics as a more complex process than just following a simple decision-making structure.
In fact, the professions are doing better and better all the time at understanding that ethics is a set of skills that can be taught, that becoming an ethical professional is a developmental process, and that ethical reasoning is not an exclusively cognitive, linear or rational process. More and more we are taking into account the non-rational factors that influence decision making. We're also making use of research in psychology and other fields to make ethics training more effective.
3. You strayed from psychology to co-author an autobiography of Charlie Burrell, a pioneer Black musician in Colorado. How did you become interested in this man?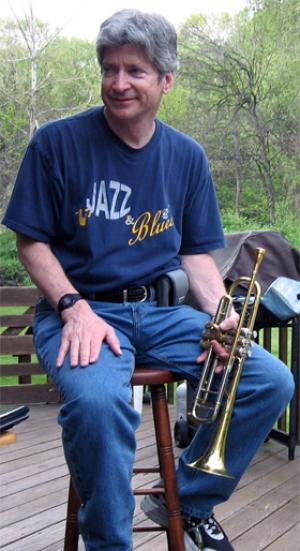 I play trumpet, and the first time I met Charlie I played with him on live radio during a fundraiser for KUVO. I was playing with Charlie's cousin, Purnell Steen, who is a piano player. One day Purnell mentioned that Charlie should write his memoirs because he is a pioneer: He was the first person of color under contract with a major symphony orchestra (the Denver Symphony) in the United States. I happened to be going on sabbatical that fall – this was 2003 — to write an ethics book, and I offered to help write Charlie's memoirs in my spare time. I went to his house every Tuesday morning to let him tell his stories. Then I transcribed and edited them. It only took 12 years to get it published. Fortunately, Charlie is still alive and kicking, and we published the book about six months ago. It was probably the most fun I've ever had professionally. Charlie is an amazing person who fought racial barriers all over the place. To hear the stories was a privilege and an honor. It was wonderful to be able to put them in a form that that others can access. He's a remarkable person and what he accomplished is remarkable.
I try to impress people by saying I play trumpet, flugelhorn and cornet, but they are all really the same instrument. I play here and there, but my favorite venue is a local ice cream shop where I play on summer Sunday nights. It's wonderful because there are so many kids who watch us play while they eat their ice cream. It feels so good to watch these kids experience music that doesn't come from their phones. It may be their first exposure to live music. Just to have fun and see the kids have fun is incredibly rewarding.
4. You've received many honors, including numerous teaching awards. Do you have a favorite honor? What makes you so passionate about teaching?
Being chosen as a President's Teaching Scholar is an incredible and humbling honor. It happened more than 20 years ago, but I'm still trying to earn it. The President's Teaching Scholars are an unbelievable group of people – amazing teachers and dedicated people. I also know they are the tip of the iceberg in terms of teaching excellence at CU. Together they're at the forefront of society's exploration of what higher education means. Higher education is different than when any of us got our degrees, so it's a privilege and honor to be associated with the Scholars program and join in that exploration.
My college experience opened me up in so many different ways that I've been spending the rest of my career trying to pay forward the favors. Obviously I believe education is really important. What's interesting now is that education is going through such an important shift from primarily the sharing of facts that students can't get anywhere else to the development of skills that students can't practice anywhere else. I've been at this at CU since 1982 and I've got a lot of learning ahead of me about how to teach. We are all still learning.
5. Do you have a favorite artifact that you keep in your office and what is the story behind it?
I have two things in my office and I mention them because they keep me honest. The first is a beautiful lithograph that I received when I was chosen as a President's Teaching Scholar. It's hanging on my wall right behind the seats where students sit when they visit me. When I'm talking with students, I look at the lithograph and think, "I'd better earn this." The second item is a little piece of paper on my bulletin board that says this: "What would I do if I were the kind of professor I would want my students to think I am?" That's right in front of me all the time. When I'm in a bad mood or I have a student come in and complain about a bad grade, I look beyond all that and see my little piece of paper on the wall and remember how my professors treated me. That helps.