SPOTLIGHT
Five questions for Luella Chavez D'Angelo
CU South Denver leader builds partnerships across campuses, with communities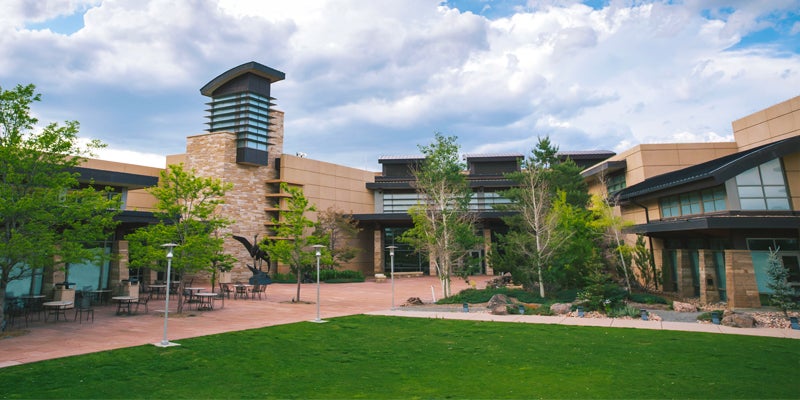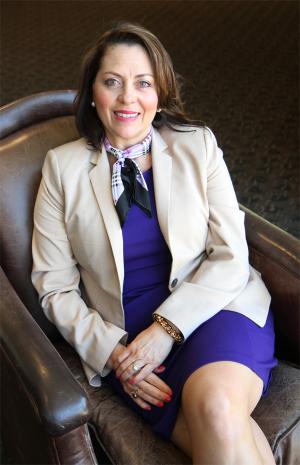 Having called Colorado home for nearly 20 years, Luella Chavez D'Angelo had a resident's familiarity with the University of Colorado. Like many folks, though, she hadn't fully realized the scope and impact of the institution on and beyond its four campuses.
Now she's helping to share that story – and add to it – in a leadership role at the university's newest location, CU South Denver. The vice chancellor for enterprise development, she reports to CU Denver Chancellor Dorothy Horrell, but works closely with all four campus chancellors' senior teams.
Chavez D'Angelo is tasked with building the entity's academic offerings and slate of museum events to best serve the area's burgeoning business and community needs. Formerly known as The Wildlife Experience, the Douglas County facility officially came to be part of CU as a $40 million gift from Dave and Gail Liniger and their family in September 2014.
Chavez D'Angelo's resume includes marketing and other leadership posts at the University of New Mexico's health science system, the Denver Museum of Nature and Science, the First Data Foundation and, most recently, as chief communications officer and senior vice president at Western Union.
1. You joined CU in February. What are your impressions so far?
Of course, I knew a bit about CU. But I didn't know what an impressive social imprint the university is leaving not only on the state but on the country. When you think about the fact that we have over 50,000 employees – I'd never realized what a major employer we are, and I've been living and working in the business community for nearly 20 years. You think about the leaders we produce – from astronauts to business leaders to physicians on the cutting edge of medical research and discoveries – it has in some ways blown my mind how impressive we really are. Our alumni are proud and stay connected to each other.
2. How are your past professional experiences, including those at Western Union and the Denver Museum of Nature and Science, informing you in your leadership role at CU South Denver?
What's pretty amazing to me is that I couldn't have asked for a better way to use all the tools in my arsenal. I think my background, my experiences and things I've learned from really strong mentors over time are already starting to pay off for the University of Colorado.
I started my career in higher education at the University of New Mexico Health Sciences Center. I went on to a museum in New Mexico, then eventually Denver, where I was the chief marketing officer of the Denver Museum of Nature and Science. I was solely responsible for identifying and choosing exhibition product. I had to think about how to bring appropriate scientific and educational programs to the community – in ways to fulfill our science mission but also get as many people through the door as possible.
I left that post to begin building the First Data Foundation, which did not yet exist. With corporate philanthropy, you think about how you can help communities while you're helping a brand. That's what I did at Western Union, too. Both of those Fortune 500 companies allowed me to think about, how do we really understand the business of these two corporations and how can we align that with philanthropy goals? How do you find the sweet spot of increasing value to the corporation while increasing value to society?
Now I get to apply all of that to build a brand for CU South Denver, to build truly collaborative partnerships with the community and with industry. And I'm working with a fantastically engaged team here, over 40 people who are really engaged in this mission, which is, how do we build a stronger educated community in south Denver by growing their abilities?
3. How have you begun matching the needs and wants of the south metro area's business community with the academics available across CU?
I have been on the campuses, trying to take a deeper look at various programs with an eye on determining which academic offerings the campuses have that will be valuable for CU South Denver. The most exciting part of the job is working with the provosts and vice chancellors, trying to match up our academic knowledge with the needs of the people, community and corporations in south Denver.
I think that sometimes academic institutions want to just put forth what a professor might be researching or studying and hope it might be valuable. Sometimes it is, sometimes it isn't. We are trying to take a very disciplined approach at CU South Denver to ask our community leaders, what is it you wish you had more of when it comes to your lifelong learning goals? What do you want for your child who might be 6 years old? Is it more history of Colorado? Learning more about anatomy? Or photography? It could be any number of subjects.
The great thing is that we have the content at CU, right? We have very exciting, relevant and accurate content. What content does a corporation need to build its workforce? What are the professional-development programs that they need?
I'm hearing a lot that companies need leadership agility – how to lead in times of change. Change is coming faster than ever with digitization, globalization, diversified populations and more competitors. How do you really help corporations lead more efficiently and with more passion and in a way where they're comfortable with all this change swirling around them?
4. While CU Denver manages the facility on behalf of the system, all four campuses are involved. How do you plan to go about building collaborations with the campuses?
One of the things that is so special about CU South Denver is that it will be the only location where we truly have academic programs from all four campuses happening in one place. That can happen two ways. They can be stand-alone programs that are an extension, if you will, of programs coming in from each of the four campuses. This will meet many of the needs of our community.
However, what's most exciting to me is figuring out where we might be able to have two schools or more from two or more campuses coming together to combine their subject matter experts, their faculty thought leaders, their knowledge and research. Take a topic like cybersecurity: We have knowledge in Denver, Boulder and most exceptionally at the Colorado Springs campus. How do we bring those subject matter experts together and pull their research findings and leaders together into a program that could better serve one of these Fortune 500 companies in our backyard? We want to find ways of using our CU enterprise knowledge, not just CU campus knowledge. Then we will be truly recognized as thought leaders.
We don't yet have any initiatives fully launched that are truly collaborative in terms of an academic offering. We now have a collaboration committee, which consists of two senior leaders from each campus who meet monthly with my senior team and me to explore these possibilities. We want to be offering some collaborative, jointly presented academic programs by next year.
For an example of where we might start, we have some data that just came out from an Arapahoe County-Douglas County workforce group. The data is showing that we need more knowledge in south Denver around the subject of finance and accounting. We also know we need more offerings around health care – allied health, specifically. And we need more knowledge around the engineering area. Those are areas we might need to start with.
5. When you reported to the Board of Regents at its April meeting, you mentioned confusion in the community as far as CU South Denver's identity. How do you go about fixing that?
We've reactivated a strategic marketing plan for CU South Denver. We're sending messages through radio, print, social media and direct mail. It's not a large campaign because we had to be somewhat resourceful with the limited dollars we have. But the goal of the campaign is really to officially introduce ourselves – which we've never done – to people and corporations in south Denver. We're saying the University of Colorado is so honored to be here in your backyard and more honored to be your education partner.
People say, so all you're doing is marketing? No. What's really exciting about building CU South Denver is that one day I could be working on real estate issues, another day I could be working on hiring people for the cultural side of house in the café or theater, so it's HR issues. Another day, I might be working with deans from all four campuses.
There are a lot of different angles to the job of building a location, even beyond marketing and communication. In my last job, I was on an airplane with Western Union, traveling more than 70 percent of the time. Now I have the chance to basically drive from Castle Rock to Lone Tree to Highlands Ranch to Parker to build something that will have a lasting imprint on the local community for years to come. It's really refreshing.