STORY
New vice chancellor on a mission for CU South Denver
Chavez D'Angelo updates Board of Regents on location's successes, challenges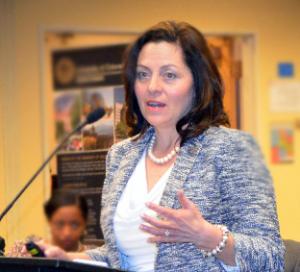 Cathy Beuten/University of Colorado
Luella Chavez D'Angelo used to drive past the Liniger Building at CU South Denver, not quite sure what to make of the only visual cue of the University of Colorado's presence, a vinyl banner.
"It looked like CU was squatting in the building," she said. Now that she works there – as vice chancellor for enterprise development – she's leading the charge for permanent signage, with a goal of having it in place within the next two months.
Boosting CU South Denver – outside and within – is Chavez D'Angelo's mission. After two months on the job, she appeared before the CU Board of Regents during Wednesday's meeting at CU Denver and provided an update on the facility. Formerly The Wildlife Experience, the $40 million gift of the facility in Douglas County from Dave and Gail Liniger and their family was made in September 2014.
"What I've seen 60 days in is, we haven't had a full-on leadership view on CU South Denver. We do now," Chavez D'Angelo said. "We have not had an inspired, engaged CU workforce in the building and I believe we're turning that around."
Regent Stephen Ludwig asked Chavez D'Angelo what the board can do for the CU South Denver mission.
"I need your contacts," she replied. "And I want to host you, the regents, again – with the community – for them to see this is a priority for you, the board."
Her presentation stressed growth in the south metro area and an established market with high need for educated talent.
The number of classes held at CU South Denver grew from 16 in Fall 2014 to 25 in Fall 2015; the student headcount (233 in Fall 2015) and course enrollments (587 in Fall 2015) roughly doubled over that time. Fall 2015 also saw the first time all four CU campuses were represented in academic offerings.
"I need more schools and colleges," Chavez D'Angelo said, noting that eight were represented in Fall 2015.
CU continues to manage the museum and program offerings that began with The Wildlife Experience.
"For some reason, marketing had come to a halt in the last six months. What happens now is, we need to reactivate it," she said.
Still, some 112,000 visitors have visited the CU South Denver museum or attended an event; the location produced exhibits and programs in collaboration with the CU-Boulder Museum of Natural History, the CU-Boulder Art Museum, CU Denver College of Arts and Media, and faculty from CU Denver, CU-Boulder, UCCS and CU Anschutz.
"Yes, there are challenges. … We need a CU enterprise-wide, shared vision," she said. "We have to be on the same page. My senior team and I have already started that planning.
"We have to actually be strategic and we have to be consistent. That's my goal."