SPOTLIGHT
Five questions for Lois Brink
From Denver to Philadelphia, professor helps transform playgrounds into Learning Landscapes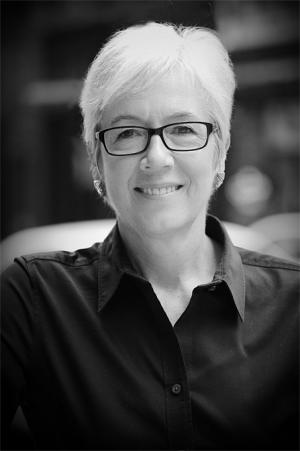 For years, elementary schoolyards have been an afterthought and many still resemble the places they were 50 years ago, covered with punishing gravel, lacking vegetation or shade, and littered with outdated metal play equipment.
But as a landscape architect, Lois Brink saw potential. She began a movement to transform schoolyards into vital community spaces that were visually, academically and culturally appealing to young students and neighborhood residents.
Brink is a professor of landscape architecture at the University of Colorado Denver and has been there for 27 years. Before that, she was a practicing landscape architect in Denver. As a principal within a firm, she said she found herself spending a lot of time teaching people what to do. She enjoyed the role and wanted to look at how she could advance the discipline while furthering her own interests in research around the design, construction and evaluation of built environments. Her passion and research pursuits soon meshed with her transition to academia.
One highlight of her time at CU is the 15-year effort that revamped 96 local schoolyards through a public-private project called Learning Landscapes. Brink received several grants to study physical activity and the impact of these built environments on children and children's behavior. Much of the work was in collaboration with CU Denver's geography department and the CU Anschutz Health and Wellness Center.
Brink and her students have moved their focus east to schoolyards in north Philadelphia, where they hope to accomplish what Brink calls "Learning Landscapes 2." Both last year and this semester, students have spent time at several schools, talking with students, parents, teachers and community members to discuss ways to give dismissed schoolyards new life.
1. How did you become involved with and/or interested in revamping elementary schoolyards?
I was raising children and was struggling a little bit with the transition from private practice into the academic environment, trying to decide what my research focus should be. It wasn't until about three or four years into my teaching career that I had the opportunity to take my daughter to her first day of kindergarten. I took one look at the schoolyard and said, "You have to be kidding me." It was horrific. I called these schoolyards "scorched earth." They were a sea of pea gravel and devoid of all vegetation, filled with 50-year-old play equipment.
I thought there had to be something better and that was a huge aha moment for me. It was my passion around being a mother and realizing that these types of schoolyards were everywhere – in Denver and across the country – that made me realize my research could take advantage of my professional practice.
At the same time, our chancellor, Georgia Lesh-Laurie, was looking at how faculty members could blend research with community service. So this idea of teaching classes where my students were in an immersive environment by going to these schools and thinking about them as urban space, as a park, that is open to the public and funded by public dollars, fit right in. I coined the term Learning Landscapes because these schoolyards could be places where all students could learn, and, at the same time, provide greater opportunities as civic spaces.
2. In what ways do the redesigned schoolyards benefit students and the surrounding communities?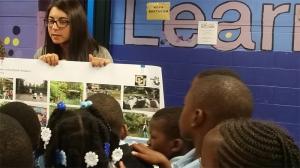 First, participatory learning is a valuable way of teaching an experience. Why sit in a classroom to tell students about different types of geologic rocks and formations in Colorado on a screen or in a textbook when you could walk out to the schoolyard and show the students an igneous rock, show them how hard it is and how, when you cut it, it becomes smooth and shiny. Or you could show them the softer, different textural qualities of sandstone.
Experiential learning has huge potential for children, especially for children who might be distracted by worries about whether they're going to eat tonight or have a place to sleep or who have emotional trauma in their homes and neighborhood. When learning is more interactive and participatory, it allows them to not think about these worries and instead focus on their cognitive abilities to understand and explore.
In addition, an outdoor garden might be a place where kids can learn about seeds and plants and growing things and the changes of the seasons, but it also gives them a nice place to walk. You can also create an outdoor classroom with shade – something older schoolyards don't have.
Finally, schoolyards provide a place for students to learn socially, physically and academically during the school day, but they also are a resource during non-school hours as a civic space. The amenities appeal to multiple generations as well. Our philosophy is that you create a place where a brother or young dad could shoot hoops and a younger sibling could play on the grounds at the same time.
3. What did the Learning Landscapes project accomplish and how was it funded?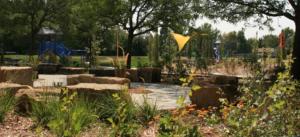 In the United States, there are only five cities that have been able to scale the redevelopment of schoolyards – Denver, Boston, San Francisco, Houston and New York City. We built 96 schoolyards for $45 million over a 15-year period, ending in 2012.
Funding was sort of a three-tiered approach. First, we had to choose a pilot project where you know you've got the community capacity to make it work. That just happened to be my children's school. That got the district excited and then local foundations got excited about it, and then the city joined in.
After that, we moved to a three-year, 22-school, $10.6 million campaign to redevelop schoolyards. This was during Wellington Webb's term and he had focused on 16 neighborhoods where he was using surplus sales tax to provide community economic development. He saw the value of schoolyards as community revitalization. The effort was a public-private partnership that included the city, the district and in-kind services from major construction companies. The schools raised money, people from the community contributed and volunteers helped rebuild the yards.
It was very much a collective impact approach where no one entity paid or funded more than 30 percent of the overall schoolyard cost. Then others wanted these types of schoolyards, too, so our success allowed us to continue to build schools with money from a voter approved school bond. It's amazing that the city of Denver, where 60 percent of those who live in the city do not have school-age children, approved a $300 million bond for the school district in 2003 and then in 2008 another $400 million bond when the sky was falling financially. Learning Landscapes was one way that the school district could give back to residents who don't have children.
4. Why did you pick Philadelphia for your next schoolyard projects and in what ways are the students involved at this point?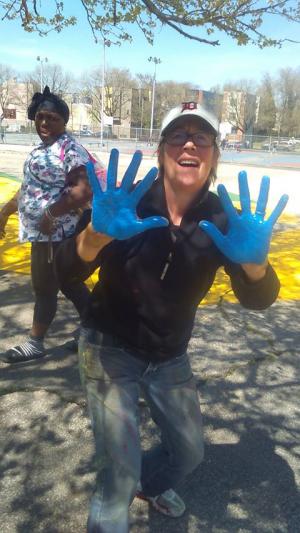 A CU Denver alum, Zoe Tweed, suggested that Learning Landscapes should go to Philadelphia, and after some research, I found that the city is looking at innovative ways to develop a green storm water infrastructure. From a research standpoint, I became interested in the idea of schoolyards not only providing community resources, and helping with education and making people healthier, but also developing that storm water infrastructure. So we're taking everything we learned in Denver and adding this new lens.
In 2014, I went on sabbatical and spent an intensive year in Philadelphia to see what was going on and started to develop partnerships and began looking at ways I could also enhance my research and my students' academic experience, including through online teaching.
My focus is in north Philadelphia where the community has suffered over the years through white flight and the closing of many factories. It is a predominantly African-American community and has been chronically underserved for decades.
This fall we are working with six schools and spent a week in the beginning of October there. Three graduate students were teamed up with each school. We spent three days at the school, talking with parents before and after school. The CU students were there during recess, shooting hoops with the kids and playing games with them, all the while having conversations. One important thing we do is move away from traditional community gatherings where you hold a meeting, because people who come to those meetings may not necessarily represent the people of the community. Instead, we "listen" while having one-on-one conversations around creating vital community spaces with as many people as possible during our time there.
On the other days we were in Philadelphia, the students rode bikes through the community. They got to know the community and see some of the innovative green storm water projects going on there. For my students, who are predominantly white or international students, to have this immersive experience and be able to have conversations with residents, parents and young students is so important. Many likely have not had firsthand experience with the economic and racial issues our urban cities are facing. It's important for the students to empathize and understand what has value to a community so that the schoolyards they design will support community life.
Philadelphia is a great counterpoint to our Denver way of living, and hopefully the experience will help students realize that Denver and other cities have a large underserved population, too. Hopefully this will give them a new lens on how they can be the voice of cultures and people who are not like them.
In Denver, it took six years to get the first schoolyard built, and in Philadelphia, we are in that beginning timeframe where we are trying to create a movement, to get people to realize that money has to be made available for this, which is what we did in Denver with Learning Landscapes.
5. Is there a project over the years that is a favorite of yours and why?
Carson Elementary would be my favorite. A lot of people have said, "Why should we care about schoolyards? We'll spend all this money and they'll just fall apart because no one will take care of them." Carson Elementary is a testimony to what happens when everything you hoped would happen does happen. The redesign began with a little volunteer project that our students did. We cut out some asphalt and put in a cross-section of the different ecosystems you'd find in Colorado. It went from prairie to a fir/aspen grove.
That was the beginning. The community came out and worked really hard and we got funding to put in the majority of the schoolyard. We didn't have the money to do everything and part of the schoolyard was still empty. Over the next six years, the community and the principal of the school began raising money to add new things. They created an outdoor classroom and outdoor art installations – ladybugs that adorned the front of the building.
Community residents who had been in the community for 20 years would go to the school and say, "I love what you've done; you've made the school so beautiful." And now residents are moving into the neighborhood and sending their children to this school and not a private school. Everyone knows they have to take care of the space and an engaged community helped make it a neighborhood school again.