SPOTLIGHT
Five questions for Darrin Pratt
Book lover matched passion with career in publishing world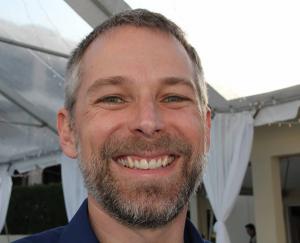 You have to be an avid reader and a lover of English literature to read an editor's note, even if it is the one in a particular edition of James Joyce's "Ulysses." But it was the explanation of the editors' decisions that turned the page on Darrin Pratt's career choice.
"It was the first time that a lightbulb went on and I realized that people do this for a living. I thought: They make books and I love books, so why not have a career making books."
A few life chapters later, after spending some time at a publishing house in New York, he ultimately chose to work at university presses.
University Press of Colorado milestones

First book printed: "White Churches of the Plains: Examples from Colorado" by Robert Adams. First ISBN issued under the Colorado Associated University Press copyright, published in 1970.

Biggest press run: 10,000, on each of two titles: "Moctezuma's Mexico" (original edition in the 1990s, sold to the Natural History Book Club) and "Colorado: A History in Photographs" (original 1990s edition, purchased by King Soopers for sale in stores)

Top seller: "Colorado: A History of the Centennial State," 40,000 copies and still counting, in its fifth edition.

Award winners: For a list of numerous award-winners, visit the website here.
"There aren't a lot of publishing options if you don't want to live in New York," said the director of the Boulder-based University Press of Colorado and its Utah State University Press imprint. "You can work for a handful of publishing outfits scattered elsewhere or you can work for a university press. I've always been academically minded, and a university press had advantages, including location and giving me some control over my life."
The University Press of Colorado in 2015 celebrated 50 years of publishing, and while some have forecast the demise of printed books, the press is going strong. Pratt began working for the press in 1997, after previous positions with Indiana University Press and Columbia University Press. He became director in 2000. The press is a consortium that includes institutions from around the state, including Adams State University, Colorado State University, Fort Lewis College, Metropolitan State University of Denver, Regis University, University of Northern Colorado and Western State Colorado University.
He hasn't had to write an editorial note like the one in "Ulysses" – "I've never really had a book quite like that," he said – but he does have editorial oversight of the books the press chooses to publish. Along with administrative duties, he also spends time trying to develop endowments to fund different parts of the press' lists.
1. How are press titles chosen and who are the authors?
We get about 240 submissions a year, and out of those, we publish close to 50 books a year. Some of the submissions are easy to turn down because they are completely off topic; others are more difficult. One of the things that distinguishes us from other publishers is our peer-review process. Even if one of our internal editors likes the project, it still needs to go out for peer reviews that are positive. Sometimes a book will have three or four reviews if it needs revisions.
A lot of university presses initially tried to follow the Catholic model of publishing everything, but from a business model, that doesn't make sense, especially if you are a small press. The lists we started publishing were history and natural history and they were both very regionally focused. But in the late '80s and '90s, we had a director who came from a larger press and had quite a few author contacts in anthropology. Our members, including CU, have strong anthropology departments, so an anthropology list was started and that list has grown over the years.
Focusing on three key areas – history, natural history and anthropology – allows us to create certain economies of scale in terms of marketing and sales processes.
Our authors come from all over the world. Some do get paid royalties, but they generally aren't huge, and that's true across academic publishing. But the contracts are usually written on sliding scales so that if the book has textbook opportunities or really sells, an author can be rewarded accordingly.
Some of the books – about 40 percent – are authored by faculty from our member organizations. We would like to have more books from member faculty but we are restricted by the topic areas we publish. The other issue is that promotion and tenure committees can look negatively at junior faculty members who publish with a home press. It can be perceived as a less rigorous scholarly process and more like vanity publishing even though it is not true because of our review process. I often discuss this with assistant professors because the last thing we would want to do is publish a member faculty and hurt that person's career.
The books are printed mostly in Michigan, North Carolina and Canada. Our distributor in Chicago also prints some small runs. These days, the runs are small for most monographs. We generally start with about 300 copies and if they sell out, we can go to paperback, or if the book already is a paperback, we can go to our distributor, which prints about 50 books at a time. When we have books that have a little bit more potential, like text potential, we might do a larger run.
2. What has changed at the press since you've become director and what are your future goals?
The goal for the press is growth, both numbers of titles and revenue. At the same time, we have a fairly conservative approach to that goal. We have already grown by leaps and bounds. A few years ago, Utah State University was contemplating closing their press. The director reached out to me to help him brainstorm some ideas. I suggested that we discuss joining our membership and the two presses, and that is what happened. I didn't know if the idea would work, but it did because we had a lot of open-minded people who were willing to contemplate a new arrangement. Ultimately, Utah State University joined our membership and transferred their publishing assets to us to manage, and with the stroke of a pen, our sales doubled. They've retained their brand as an imprint. They get that return but don't have to manage all the publishing details after they've selected the projects.
The aim of growth of the University Press is not just more revenue and more books but to build a press that is more prominent and more prestigious for our members. If we can do this, it increases their sphere of influence.
3. Over the years, has culture influenced what gets published?
Not too often, but I can think of two examples that were sort of influenced by current events. One was a book published in 2009, "The End of Time: The Maya Mystery of 2012," which was about the purported Mayan apocalypse that was supposed to happen on Dec. 21, 2012. In the ranks of our anthro faculty, Anthony Aveni studies the Mayan calendar, and we asked him to put together a book to sell to the general public to quell fears of those who were afraid enough about it that they would read a book on the topic. The book sold pretty well for us, about 5,000 copies and a few more eBooks.
And back in 2000, there was a lynx reintroduction program in Colorado. We partnered with the Department of Fish and Wildlife to publish "The Ecology and Conservation of the Lynx in the United States," which was timed for release during the reintroduction.
Right now, we're considering a manuscript that is a bit hard to describe but is inspired by the recent gun violence in schools.
4. Are you a voracious reader? If so, what do you like to read?
I read a lot but the things I read tend to shift. I do like mysteries and more recently I have been into pop psychology -- books written by academics in the field of psychology that have been distilled for a general audience. One I read a bit ago was "Mindset: The New Psychology of Success." I also enjoy business books. It always surprises me how much I enjoy the business side of my job, given my English literature background. Some of my favorite mystery authors are Michael Connelly, Jo Nesbo and Lisa Gardner.
5. If I walked into your office, what would be one of the things I'd want to know more about?
Back when I worked at Columbia University Press, they published a book by a French literary theorist titled "The Samari." They were trying to come up with an ad for the New York Review of Books. They pulled this quote from the book about "American men" and hired a model for a rooftop photo shoot with the Empire State Building as a backdrop. The model bailed the morning of the shoot. They came knocking on my door and asked if I would take the guy's place. I went off to the shoot in the clothes I had on that day. I ended up in this ad and the whole thing was so ridiculous that I had to keep a copy of the ad. It was my one and only modeling job.