SPOTLIGHT
Five questions for Carey Candrian
Health communicator working to improve hospice, palliative care for LGBTQ individuals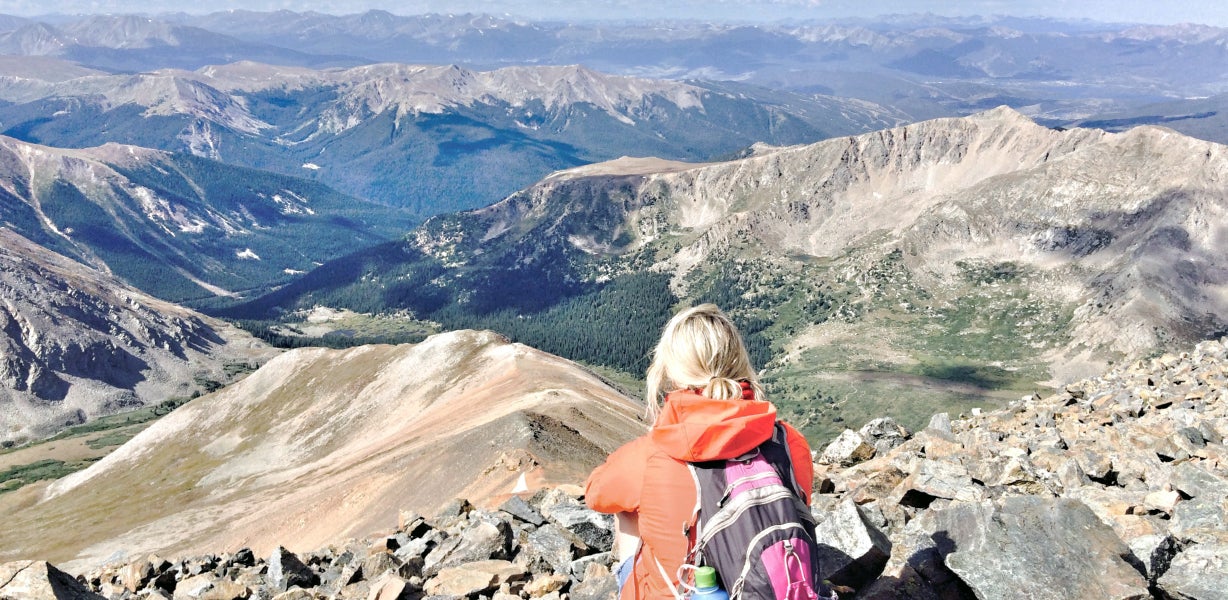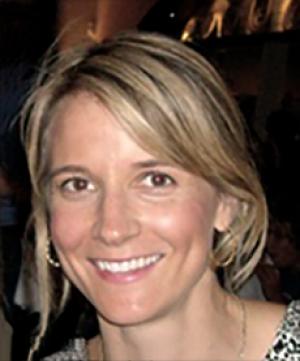 Trained as a social scientist with a Ph.D. in communication (she earned her three degrees at CU Boulder), Carey Candrian spent time in clinical settings and found she wanted to use her knowledge to address clinical issues.
Her current work focuses on hospice decision-making, particularly the admission conversation after a patient is referred to hospice.
"Redesigning these conversations in a way that meets the needs of the patient and those who care for them by focusing on value over volume is what I am trying to do so that the end-of-life experience is as comforting, inclusive and as humanistic as possible," said Candrian, who joined the university in 2014 as an assistant professor of health communication in the Division of General Internal Medicine in the University of Colorado School of Medicine at the Anschutz Medical Campus.
She recently became the first social scientist, and first Coloradan, to be selected by the Cambia Health Foundation to participate in the Sojourns Scholar Leadership Program, which works to aid the "next generation of palliative care leaders." Candrian received a two-year, $180,000 grant to develop communications guidelines to improve the quality of hospice admission interactions, with a special emphasis on the LGBTQ population, which has been identified as a national health priority and an at-risk population for end-of-life care.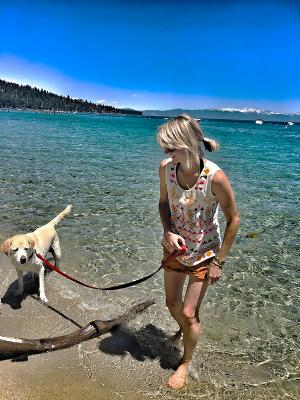 Away from work, Candrian said, "I love to be outside: I love to run, I love to hike, I love to swim in cold mountain lake water with our 11-year-old yellow lab, I love leisure and I love traveling to small towns because the simplicity of life there is beautiful and grounding." She notes on her website that she has a deep affinity for the Mediterranean Sea, and when asked to explain, she noted, "My wife is from Spain but before her, I already loved Spain as a country and as a culture. But through her, I really fell in love with the Mediterranean Sea. It's an extraordinary body of water and it's a sea that is really for everybody to enjoy. It's medicinal for older adults, it's one of the most spectacular places to scuba dive and snorkel, it's warm and calm so you can literally wade in it all day, the sun shines year-round, the food that comes out of it is delicious, and the coast is raw and rugged filled with thin and breathtaking trails. You can just stare at the water all day. It's rejuvenating and absolutely peaceful."
1. What influenced your decision to follow this career path?
I chose a career in communication – and by that I don't mean public speaking, mass media or journalism, I mean interaction – after taking an undergraduate communication theory course with Dr. Stan Deetz, who later became my dissertation mentor. At the time, his thinking seemed profound. He told us that people are not the problem; it's the way people talk that is the problem, and in order to make a difference and change culture, we need to give people a new vocabulary. He was a critical theorist, and so my training was also in critical communication theory, which means you believe that interaction is often a site of inequality.
From a communication theory perspective, we are concerned with how meaning gets created between two people and then how expression becomes a second problem. To a certain degree, we believe that human experience and human interaction is socially constructed, and often, under conditions of inequality. In a given interaction, there is rarely a basis of reciprocity – whether because of race, gender, economics, language, sexual orientation, age, illness, or power dynamics – that constrains people from having a meaningful interaction and freely and openly expressing themselves, their interests and values. In the context of end-of-life care, there are many aspects that restrict the ways we think, make decisions or express ourselves. Our vocabulary around serious illness and death and dying is limited.
Being trained as an ethnographer, I needed to connect what I was reading and teaching to lived experience. In 2008, I started volunteering at a local hospice every Friday night pushing the hospitality cart full of snacks and beverages into patients' rooms. To capture a larger picture of the way people were dying, I also started shadowing in a local emergency department to see the way decisions around end of life were being made, and the consequences of them, in a drastically different setting. At hospice, the discourse around death – including the dimly lit halls, the gray walls, the birdfeeders outside each patient room, the artificial fire welcoming guests as they entered, and the soft sounds coming from the kitchen instead of beeping monitors – was conveying that death was something peaceful and calm. In the ED, the discourse around death – including the fluorescent lights, beeping monitors, phones ringing, the smell and sound of sanitizer – was conveying that death was chaotic, heroic and something to be tamed or avoided. In fact, in the ED, a messy room after a patient died communicated to the family that the team "did everything they could to save a life."
Although distinct settings, the way language was used to communicate the values, principles and expectations of care in each setting was similar. What captivated me was what happened when patient and caregivers' understandings of care differed from the care that was received and experienced. The issue was inherently related to communication. My interest in communication became increasingly clinical, and my commitment to improving the care experience of individuals with serious illness and those who care for them solidified.
I met Dr. Jean Kutner, who is now my career mentor, in 2008 on a bench outside an emergency department, and she was the first person to tell me about palliative care. At the time, that felt radical because she was giving death, dying and our experience of it a new vocabulary and a new way to think about how we approach it. She described palliative care as a disciple that focused on quality of life, quality of care, and a discipline where communication was one of the procedures.
2. Why is there so much misunderstanding surrounding end-of-life care?
My work right now focuses a lot on hospice decision making and the admission conversation in particular – the conversation that happens when a patient has been referred to hospice but has not yet decided to enroll. These conversations are facilitated by nurses and sometimes social workers. It's a highly complex conversation and a critical one. Nurses and social workers typically have four to five of these consults per day. Patients often enter these consults extremely fatigued and ill and for many, they still are naturally confused about what hospice is and what care looks like. Caregivers, if present, often feel like choosing hospice means they are giving up. In fact, sometimes before one of these conversations, the caregiver will come out and ask the nurse to not use the work hospice. Furthermore, from an organizational perspective, nurses state that success is enrolling patients and is often measured by their convergence rate to hospice.
From a more social, cultural and policy perspective, the complexities and pressures of hospices staying competitive, achieving financial performance targets, and adapting to a rapidly changing market all pose significant challenges to running a hospice organization in a way that stays true to the hospice philosophy and its core values. Many recent reports from the Office of the Inspector General and the Medicare Payment Advisory Commission, along with articles in the national news media and clinical literature, have raised concerns about practices in some United States hospice organizations that prioritize revenue over patient care, and volume over value. With that in mind, the nurse typically has 90 minutes to describe hospice and its services, discuss the hospice benefit, determine eligibility, have a goals-of-care conversation, and attend to patient concerns around symptom management, medications, care providers, etc. That's a lot to cover in 90 minutes, and in a setting of serious illness, the importance of clearly communicating this information in a way that the patient can hear and understand before making a decision becomes magnified.
We are socialized to fight against death until the bitter end, and hospice offers a wonderful option along the care continuum. Providers and lay people are often uncomfortable having these conversations, and so many times it falls on the admission nurse. For patients who are just hearing about hospice after being told there is nothing left the hospital can do, it's challenging to grasp everything and make a decision in 90 minutes. After the admission nurse leaves, the patient won't see the same nurse again, and so making sure what is said about hospice during the admission consult and what is understood by the patient and aligning that with the care actually experienced is what interests me.
For instance, a patient might understand that a nurse will see them every day and when they call hospice instead of 911, they will get a similar response, but what actually happens is that a nurse won't be visiting every day and the wait time is often much, much longer than calling 911. It's not necessarily bad, but it's a different experience, and people need to have this understanding so that they know what they are signing up for and receive care that aligns with their needs/goals and expectations.
3. Your research focuses on underserved populations and LGBT people. What issues do these communities face that are different from other groups and why does this occur?
Aging individuals and individuals with serious illness already face enormous struggles and challenges. The lesbian, gay, bisexual, transgender and queer (LGBTQ) communities face those same issues and suffer huge health disparities in housing, employment and health care. They face a lifetime of stigma and discrimination, and literature shows that it continues as LGBTQ individuals age. Older adults who identified as LGBTQ grew up in a time where they often weren't able to freely and openly express themselves and love who they wanted. For some, having a partner was literally punishable by jail. This is the generation of older adults entering long-term care facilities now.
Given the rough, insensitive treatment they have endured, many LGBTQ individuals avoid seeking health care services, or go back in the closet when seeking care or entering long-term care facilities. Actually, 78 percent of LGBTQ older adults go back into the closet when in long-term facilities. Healthy People 2020 identified the LGBTQ community as a national health priority and an at-risk population for end-of-life care, and it is no surprise.
Compared to heterosexual individuals, we are twice as likely to age as a single person and not have the traditional caregiving structure with kids and grandkids, are twice as likely to live alone, are three to four times less likely to have children to support us, and are three times more likely to live in poverty.
Due to family rejection, many LGBTQ individuals experience social isolation. We have an increased risk of life-limiting illnesses and exhibit more risk behaviors than heterosexual individuals. Health care providers often operate without clear guidance on how to interact with LGBTQ individuals, and data and evidence on the LGBTQ community is limited and often lumps minority groups together. For too long, LGBTQ people have been invisible and largely neglected and I want to change this so we have more programs designed specifically to enhance health outcomes and to deliver high quality and culturally sensitive care to LGBTQ people.
When I gave a talk to a group of hospice providers about making hospice care more inclusive, several individuals said, "But we already treat everyone the same." Being inclusive is not the same as treating everyone the same. In fact, treating everyone the same rarely benefits patients because patients aren't all the same. Providing LGBTQ-inclusive care requires changes at two levels: the individual (the language used regarding who you consider to be your family, to whom do you turn for support, what gender pronouns do you use) and the institutional (updating forms and marketing materials, hiring more LGBTQ staff). We have a long, long way to go.
4. You have trademarked a model of communication – RELATE – that is being used in volunteer advance care planning training programs. How did you develop this model and what does it look like in practice? Can it be used in situations other than advanced care?
This model grew out of my earlier graduate work and medical education work with Dr. Kirsti Broadfoot on campus, as well as our earlier work when she was on my dissertation committee starting in 2007. At its heart, a relationship-centered model of communication believes that change can only occur on a relationship level. This is not to say that every interaction you have must lead to deep disclosure and deep relationships. It means that you enter interactions with a degree of ease, respect and a genuine curiosity to learn about and with the other person, and genuinely care about them. You listen to learn, rather than listen to respond; you talk to learn rather than simply talk to tell.
Without some degree of rapport, it's very hard to develop some degree of trust and authenticity to have any conversation that is not simply transactional. Rapport is especially critical for more difficult conversations. The RELATE model focuses on listening as much as talking. I love the quote about us having two ears and one mouth and that we should use them proportionately. RELATE stands for: rapport, explore the other person's perspective, listen for goals, adapt to their needs, tailor information and empower.
In the volunteer program, it is about having individuals be motivated to do something related to advance care planning – continue the conversation with a friend, fill out a form, or whatever makes sense for them given their own unique circumstances. And in everyday interactions, the model translates to having people feel genuinely good as a consequence of talking with you, which often sets up future interactions.
It's designed as a communication model that is relevant for health care and outside health care. Good communication skills should be transferrable to different settings. How you talk in one setting often mirrors how you talk in other settings. Because our communication practices often become habits, the more we can practice relationship-based and inclusive practices, the more comfortable those we talk with will feel, and the more likely we will default to them. The skills are really based less on what any one individual can achieve, advance and solve alone, and more on what we can achieve, learn and solve together.
5. What do you hope to achieve through the Cambia Health Foundation grant project?
Every year, the Cambia Health Foundation selects a small group of individuals from an extremely competitive pool as emerging leaders in the field of palliative care to enhance our expertise so that we can influence health care system change. I am excited for the incredible mentorship from national leaders in the field, the incredible vision and support of Cambia, the extraordinary cohort of individuals I get to work with and learn alongside, and the acceptance into the Cambia Sojourns family as they say.
The leadership goal of the Sojourns award is to gain leadership development in policy, advocacy and ethics. The research goal of my Sojourns award is to improve the way hospices services are explained and understood so patients and those who care for them can make informed decisions and improve the way hospice organizations care for LGBTQ individuals.
I will use RELATE because of my experience and belief in relationship-centered models of communication, but I am also working closely with my mentors – Dr. Jean Kunter, Dr. Melissa Aldridge (Mount Sinai) and Edo Banach from the National Hospice and Palliative Care Organization – to design a set of guidelines that can be implemented to improve the quality of admission conversations.
I don't want to create something that is going to sit in a manuscript or on a shelf. I want to create something that people see the value in that will fit within their busy work flow, leverage what they already are doing well, and ultimately help them have these conversations.