SPOTLIGHT
Chase Faculty Community Service Award honors educator's science and health care outreach
CU Anschutz's Aimee Pugh Bernard inspires future scientists, encourages vaccines for all and advocates for pro-science policy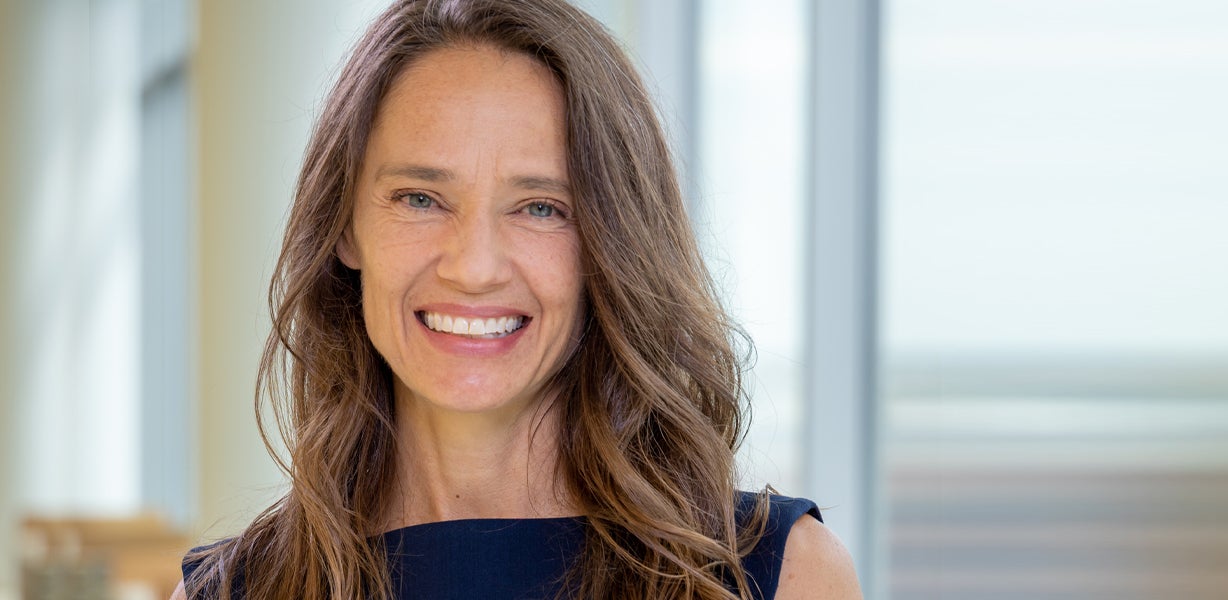 Aimee Pugh Bernard, Ph.D., faculty member at the University of Colorado Anschutz Medical Campus, is the recipient of the 2022 Chase Faculty Community Service Award, which recognizes her tireless advocacy for vaccines and pro-science policy, as well as her enthusiastic, imaginative exposure of science careers to young people in historically underserved populations.
Bernard is an assistant professor in the CU School of Medicine's Department of Immunology and Microbiology, teaching in various graduate and postgraduate programs across the CU Anschutz Medical Campus. She also is the executive director of the Human Immunology and Immunotherapy Initiative (HI3), where she coordinates the development of the research and clinical infrastructure necessary to create a premier facility for the discovery and use of human immunotherapies.
The Chase Faculty Community Service Award is presented annually to a full-time CU faculty member who, in addition to his or her university responsibilities, has, pro bono, provided exceptional educational, humanitarian, civic or other service in the community. An advisory council submits a recommendation to CU President Todd Saliman, who bestows the honor, which includes a $10,000 grant sponsored by an endowment from JPMorgan Chase through the CU Foundation.
Bernard's dedication to educational outreach is evident throughout the broader community, most notably via her advocacy on behalf of immunization requirements in Colorado's public schools, her COVID vaccine advocacy efforts and her creation of an after-school program for elementary schools surrounding the CU Anschutz Medical Campus to promote interest in science, technology, engineering and math (STEM).
With her nonprofit "Think Like a Scientist" (TLaS) program, Bernard serves as faculty mentor, guiding volunteer graduate, medical, dental, physician assistant and pharmacy students. They engage with Aurora and Denver elementary schools that primarily serve historically underrepresented groups and where more than 75% of students receive free or reduced-cost lunch.
Bernard writes small grants and obtains private donations to offer the program free of charge to all partnering schools. She uses the likes of lemon volcanoes and exploding popsicle sticks to teach students about the scientific method, experimental design, critical thinking, scientific presentation skills and other topics important to thinking like a scientist. During the COVID-19 pandemic, she seamlessly transitioned the program to an online curriculum, expanding the reach to more schools. With help from CU Anschutz students, she also created a TLaS YouTube channel of 'science-at-home' videos in English and Spanish.
"At 'Think Like a Scientist' we're on a mission to engage students who don't see themselves represented frequently in science or medicine," Bernard said. "We want them to know that anyone can become a scientist or a doctor. We also want them to experience the joy of science. Science is about discovery, doing experiments and, most importantly, having fun!"
Over the 2019-2022 legislative sessions, Bernard testified several times in support of legislation aimed at boosting Colorado's childhood vaccination rates, which are among the lowest in the nation. Sometimes facing vehement opposition, she spoke eloquently to lawmakers about the scientific basis for vaccine safety and efficacy, as well as the many benefits that a sufficiently vaccinated population can have for a community.
In 2013-2017, Bernard wrote an 11-part 'Immunology 101' blog series for the Immunize Colorado Team Vaccine blog aimed at educating readers about how vaccines work with the immune system to provide long-lasting protection from infectious disease. In 2021, Bernard began serving on the Board of Directors of the Colorado Immunization Advocates and became a member of the Colorado Vaccine Equity Taskforce. She promoted COVID vaccine efforts in the region by delivering numerous virtual presentations at Rotary Clubs and town hall events alongside state representatives and college administrators, and Q&A sessions for parents of children with immunodeficiency diseases, offering complex subject matter in an interesting, digestible format.
"As a vaccine advocate, I think it's important to advocate for common-sense, pro-science vaccine policy that will keep our Colorado communities healthy," Bernard said. "When everyone who is able gets vaccinated, we protect vulnerable people in our communities – think babies too young for some vaccines or cancer patients undergoing chemotherapy – from getting sick and/or dying. As an immunologist and educator, I work hard to reach as many people in the community as possible to share the facts that vaccines work with our immune system to keep us protected from disease."
"Dr. Bernard's commitment to advocacy for health care has far-reaching benefits in the community, helping to protect the most vulnerable," said Joseph Coleman, Chase's Business Banking Market Manager in Colorado. "She also invests time and energy inspiring the next generation of scientists with imagination and excitement. That positive impact makes her a very deserving recipient of the Chase Faculty Community Service Award."
The Chase Faculty Community Service Award – established in 1991 with a $100,000 donation – is funded annually by an endowment from the JPMorgan Chase Foundation through the CU Foundation. The endowment provides an annual award of $10,000 to a full-time faculty member at the University of Colorado who has rendered exceptional service in his or her community.