SPOTLIGHT
Axelrad aims for the stars
Aerospace researcher honored with Excellence in Leadership Award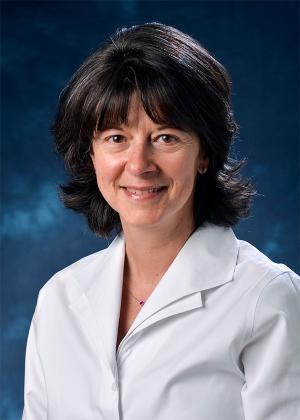 Penina Axelrad is, at heart, a problem-solver.
Her drive to discover creative, elegant solutions has been the hallmark of her career, from earning her Ph.D. in Aeronautics and Astronautics in 1991 from Stanford, to joining the faculty of University of Colorado Boulder's Department of Aerospace Engineering Sciences in 1992, through her accomplished leadership as its chair from 2012-17.
Axelrad is one of two recipients of the 2017 Excellence in Leadership Award, given to an alumnus of the systemwide Excellence in Leadership Program (ELP). The award recognizes exemplary leadership at the university in one or more areas: leadership of organizations, departments or teams; leadership of projects, programs and/or research; fiscal management and/or fundraising; and student instruction. Axelrad was recognized for her leadership of the university's Smead Aerospace Engineering Sciences Department and of CU Boulder AeroSpace Ventures.
"Dr. Axelrad's dedicated leadership in support of CU's aerospace research and education missions has been instrumental in building the reputation of CU Boulder and the state of Colorado as world leaders in aerospace," said Abby Benson, assistant vice chancellor for research and innovation.
After completing the ELP program with its 2006-7 class, Axelrad said she felt more connected to the university as a whole. She increased her understanding of how the university is run – particularly its relationship with the Colorado state legislature – and developed negotiation skills that served her well in the ensuing years.
Named AES department chair in 2012, Axelrad oversaw a dramatic expansion of department programs, industry partnerships and opportunities for students. She is especially proud of outstanding new faculty hires and the recognition for excellence that the AES faculty, staff and students have received.
A major component of the expansion of aerospace activities on campus centers on CU Boulder's AeroSpace Ventures (ASV), a collaboration among researchers, students, industry leaders, government partners and entrepreneurs working on space and Earth systems. Building upon her two predecessors' efforts to foster interdepartmental and industry partnerships, Axelrad accelerated this idea in 2013 as chair of the ASV Executive Committee.
When founded, the ASV brought together five of the largest campus units engaged in aerospace-related work: the Cooperative Institute for Research in the Environmental Sciences (CIRES), the Laboratory for Atmospheric and Space Physics (LASP) and the departments of Aerospace Engineering Sciences, Atmospheric and Oceanic Sciences, and Astrophysical and Planetary Sciences. The chairs and directors of these units focused on ways to collaborate on research and education initiatives and to be more coordinated in their interactions with aerospace industry and government partnerships. The team also worked closely with six Colorado aerospace companies to bring them into the ASV as founding members.
Axelrad credits former managing director Diane Dimeff with coining the name, and guiding the team to develop and articulate a shared vision for what could be accomplished through the collaboration. This allowed campus leadership to help spread the message to government entities, industry and the outside world.
In the meantime, the group got to better understand each other's priorities and needs. And this yielded many fruitful collaborations among the participating units: hiring junior faculty with strong interdisciplinary skills as ASV faculty, hosting educational and networking opportunities for students, expanding participation to five more departments and programs, and providing significant leadership in the development of campuswide Grand Challenge initiatives.
"The fact that the campus recognizes aerospace as an important theme and is using the ASV collaboration as a model for the development of other interdisciplinary themes is fantastic," Axelrad said.
Another high mark of Axelrad's time as faculty chair was fundraising. Collaborating with her deans and CU Advancement, she was involved in four major gifts totaling $15.6 million. The largest was a $10 million gift from Ann Smead and Michael Byram, naming her department and being the lead gift for the new AES building on Boulder's East Campus.
She credits the advancement team for helping her understand that the crux of fundraising was finding a shared vision with donors.
"I had the opportunity to work with people who care deeply about CU and really want to make a difference," Axelrad said. "Figuring out how to bring together our ideas for what we want to accomplish, with a prospective donor's goals, to actually make it happen is a truly rewarding experience."
Another highlight was a $3 million Lockheed Martin sponsorship agreement reached in August 2016. Initially, CU was at the table with a request for a brick-and-mortar gift. The company wasn't interested in capital investments but was interested in sponsoring programs in key technical areas for its business interests. So Axelrad and the advancement team pivoted to propose endowment support focused on radio frequency systems for space. Getting to know CU's faculty leaders in this area and others led Lockheed Martin to also establish a master agreement likely to support $1 million annually in university research.
"Penny demands excellence from her colleagues and students, but invests personally in the outcome," said Anne Bishop Shoup, assistant dean for advancement. "In my experience, her steadfast persistence and personal dedication to her department is unmatched across the college. She is an uncommon and impressive servant leader."
Axelrad also led the process through which the new AES building on the East Campus was conceived, approved and realized for groundbreaking on Oct. 26, 2017. Her tenure as chair saw an expansion of faculty from 25 to 37 tenure-track members.
"Her modus operandi is to solicit inputs from all sources, carefully listen, build consensus and take action to achieve results, extended respect to all individuals throughout the process," said Jeffrey M. Forbes, professor emeritus. "Through example, she has cultivated an extraordinary level of collegiality within our department, and, through her actions, she has made us proud to be part of something special."
Axelrad stepped down as chair in 2017, proud of CU Boulder's growing national reputation.
"It is synergistic," Axelrad said. "CU's well-deserved reputation for excellence in aerospace continues to attract top students and faculty. Then they find out about the amazing opportunities to stay in Colorado and contribute to a vibrant aerospace industry and national labs. The combination makes this a very exciting place."
Axelrad tries to encourage young people she meets to picture themselves in that role. Through her work at CU Boulder, she is setting the stage to inspire a new generation of problem-solvers.
"Engineering is a great profession. It brings together science and math and computing, with creativity and problem-solving and innovative design, and, well, all of these things," said Axelrad, who is currently on sabbatical, studying GPS systems as part of a National Research Council Fellowship at the Air Force Research Lab in Albuquerque. "There are so many opportunities to achieve success as an engineer – great compensation, the chance to build new things, and you have a lot of freedom to take your career in the direction you want."