PEOPLE
Udall appointed to climate change advisory committee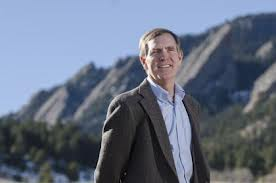 Bradley Udall, director of the Getches-Wilkinson Center for Natural Resources, Energy and the Environment, University of Colorado Boulder, was appointed to a newly created federal advisory committee that will provide guidance about the Interior Department's climate change adaptation science initiatives.
The Advisory Committee on Climate Change and Natural Resource Science will advise the Secretary of the Interior about the USGS National Climate Change and Wildlife Science Center and the Department of the Interior Climate Science Centers, which are managed by the U.S. Geological Survey.
"Responding to climate change and its effects on our natural and cultural resources is an important priority for the nation," said Secretary Sally Jewell. "This committee embodies our commitment to working closely with our partners to strengthen our efforts to develop sound science that will help inform policymakers, land managers and the public in making important resource management decisions."
Twenty-five committee members were selected from more than 100 nominations received by the Interior Department. Members were appointed to two- or three-year terms. The first meeting of the committee is expected to take place this summer.
"The national center and the eight new regional centers are the hub and spokes of an important Obama Administration initiative to help land managers and others adapt to climate change. Science centers are working hand in glove with landscape conservation cooperatives and delivering information on climate change impacts on water, wildlife and other natural resources to local resource managers," said Deputy Secretary of the Interior David J. Hayes.