PEOPLE
Smith winner of Outstanding Staff Award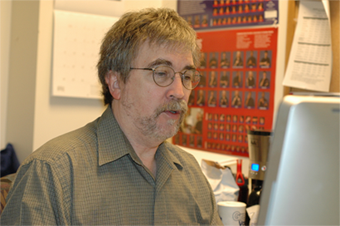 Ian Smith's sense of humor, experience on campus, and willingness to go outside of his position description, make the departments of history, philosophy and humanities run smoothly and effectively, according to his colleagues at UCCS. Smith, a program assistant who helps all three departments, was recently selected as the Outstanding Staff Member of the Year.
"Ian has brought an insider's staff sense of what changes would make the departments function more effectively both for faculty and students," said Paul Harvey, professor, Department of History and department chair. "He has supervised an enthusiastic staff of student workers who have quite literally helped to bring us to the 21st century."
Previously, Smith, a seven-year UCCS staff member, worked for the Department of Physics and the Office of Admissions and Records. In his current position for 18 months, he wasted little time in creating a positive effect.
"Don't grieve – tell Ian and it will be taken care of," Lorraine Arangno, senior instructor, Department of Philosophy, wrote. "And not some time next semester but as soon as possible!"
Harvey and Arangno also said Smith is willing to take on extra duties and display  compassion for others. Department of History Instructor Barbara Headle cited Smith's help with her course and Smith's volunteering to portray one of Fountain's early founders, a Scottish immigrant named Riddoch, including mastering the Scottish brogue.