PEOPLE
Simon awarded Center for Faculty Development grant for project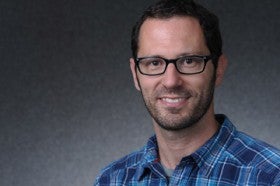 Gregory Simon, assistant professor in Geography and Environmental Sciences at CU Denver, has teamed up with Stanford University to research the root causes of fire vulnerability. Given the increased prevalence of devastating wildfires in the American West, research on the subject is valuable and urgent, Simon said.
With grant support from the Center of Faculty Development and resources from Stanford's Spatial History Lab, Simon and his team of research are telling the story of a 1991 wildfire that devastated a large residential area in Oakland, Calif., burning 3,500 homes, killing 25 people and injuring 150 others, using an innovative mix of historical and spatial analysis techniques.
"The collaborative nature of this project is great," Simon said. "Because CU Denver and Stanford students are trained in different ways and bring different skill-sets, both parties are able to uniquely contribute to the research process and learn from one another."
Simon's research revolves around post-wildfire government recommendations, which until now, never have been fully assessed. "We often assume that once recommendations are made, we follow them, and they are successful. However, that isn't always the case," Simon said. This project examines whether the recommendations, including road-widening, vegetation clearing, water infrastructure improvement, and fire-safe home construction, were followed and whether they were successful in reducing social vulnerability.
"We are using the Oakland fire as a baseline," Simon explained. "After examining the effects of the Oakland fire, we can apply our findings and spatial-historical analytic techniques to other instances like several recent Colorado fires."
Simon plans to implement his research in Colorado and eventually create something similar to Stanford's Spatial History Lab at CU Denver. "Only after we understand the extent to which these post-fire policies are successful can we begin to make future policy improvements and protect ourselves from future fires," he said.