PEOPLE
Shockley-Zalabak receives Range Riders' Silver Spur Award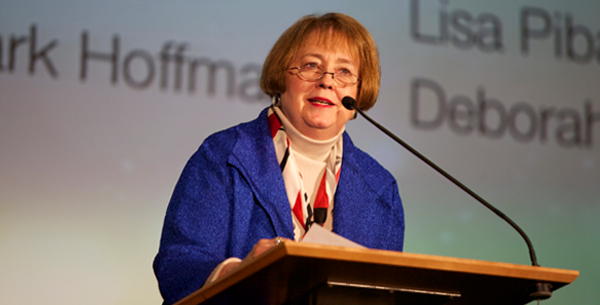 University of Colorado Colorado Springs Chancellor Pam Shockley-Zalabak was honored with the Pikes Peak Range Riders' Silver Spur Award during the group's annual dinner June 23.
"I was surprised, honored and humbled by this award," Shockley-Zalabak said. "The award really is for the work of an entire campus."
The Silver Spur Award recognizes Shockley-Zalabak's impact on the community and at UCCS. "Pam's impact on Colorado Springs has been immense, through her dedicated service, leadership, inspired vision, and a fervent commitment to our community," said Range Rider Chris Jones.
The Range Riders were founded in 1949 as an experiment to promote the Pikes Peak or Bust Rodeo. The dinner and award announcement typically wrap up the Range Riders' five-day horseback ride around Pikes Peak to publicize the rodeo. Because of the Black Forest fire, however, the Range Ride was canceled this year for only the second time in the group's 65-year history. The first was during the Hayman Fire in 2002.