PEOPLE
Sharkey receives award for political leadership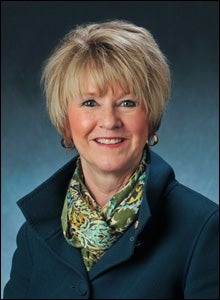 Sue Sharkey, vice chair of the CU Board of Regents, was honored Friday with the Annie Taylor Award from the David Horowitz Freedom Center during its Restoration Weekend in Palm Beach, Fla.
The conservative think tank presents the awards annually in recognition of demonstrations of political courage. In receiving the award, Sharkey, a Castle Rock Republican, talked about the board's vote in September to revise the regents' anti-discrimination policy to add protection for diverse expression of political philosophy, as well as gender identity and gender expression.
"The Laws of the Regents now protect members of the university community from discrimination based on political philosophy or affiliation. This is a significant milestone for a public university," Sharkey told the audience. "The measure isn't about Republicans or Democrats, conservatives or liberals, rather it's about freedom — the freedom for the university community to embrace broad scholarly principles, to create an environment where the marketplace of ideas will flourish, and to prepare our students to fully engage in a society that cherishes its differences as much as its similarities."
Sharkey has been active in leadership and business in Colorado for many years, and is a proud CU parent. She has represented Colorado's 4th Congressional District since being elected to the Board of Regents in 2010.