PEOPLE
Sassower receives Spirit of the Springs award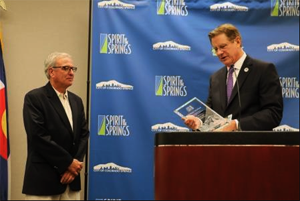 Raphael Sassower, professor in the Department of Philosophy at UCCS, was honored by Colorado Springs Mayor Steve Bach with a Spirit of the Springs Award.
The award, presented Sept. 9 in a brief ceremony at the City Administration building during a mayor's press briefing, recognized Sassower for his campus and community contributions since joining UCCS in 1986. Bach noted Sassower's most recent recognition, his April selection as a President's Teaching Scholar.
Spirit of the Springs Awards are given by the mayor to recognize citizens when a volunteer activity or noteworthy achievement has brought great honor and pride to the city of Colorado Springs or has been distinguished at a state, national or international level.
Bach previously has given Spirit of the Springs Awards to Janice Gould, associate professor, Women's and Ethnic Studies program, as well as the 2013-14 UCCS Men's Basketball team and the 2013 club inline hockey team.