PEOPLE
President's Scholars Honored at School of Medicine Reception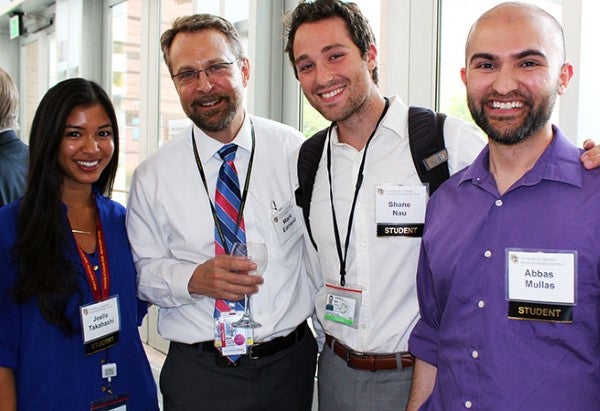 Top leaders from the University of Colorado and the School of Medicine gathered on the Anschutz Medical Campus Wednesday evening to recognize medical students who have been awarded President's Scholarships.
"We're thrilled you're here," said Don Elliman, chancellor of the University of Colorado Anschutz Medical Campus. "We're delighted that we could have the program that you are all benefitting from, which is directly resulting from the commitment of the president of the University."
President's Scholarships were created six years ago to aid students of diverse backgrounds who would not be able to afford medical school without financial assistance. The scholarship is a four-year award, ranging from $15,000 to $30,000 per student per year. There are 12 students in the School of Medicine's Class of 2019. Since the inception of the program, scholarships have been awarded to more than 80 students.
Dozens of students, faculty and University leaders met at a reception in the Fulginiti Pavilion for Bioethics and Humanities.
University of Colorado President Bruce Benson's office provided the original investment in the program – $10 million over five years to support scholarships to recruit students from diverse backgrounds.
Benson lauded others who have contributed with scholarships for the same purpose.
"What I think is equally important is what everybody else has done," Benson said. "We've got over 75 faculty and staff who have stepped up and said we're putting money in this program too."
The scholarships have been a key initiative that has improved the diversity in the School of Medicine. Six years ago, about 10 percent of the students in the incoming class were from backgrounds underrepresented in medicine.
Now, more than 30 percent of the class comes from such backgrounds. In the Class of 2019, more than half come from diverse backgrounds when including a broader definition that includes rural backgrounds, first-in-their-family to attend college, and socio-economic status.
"These scholarships really helped us move the needle in a positive way in recruiting a medical school class that is consistent with the goals of our organization, which is to be leaders in research and to be leaders in medical care," said John J. Reilly, Jr., MD, dean of the School of Medicine and the University's vice chancellor for health affairs.
"I think the data are pretty clear," Reilly said, "that both our clinical care and our research enterprise benefit from a diverse student body and a diverse faculty."
Students at the event said they would have been unable to afford the School of Medicine without the scholarships.
Judas Kelley, a first-year medical student from Lakewood, was an emergency medical technician in Denver. He had received an undergraduate degree from the University of Colorado Denver in 2010 and went back to school to get the education he needed to be ready for medical school.
With a wife and a one-year-old child, he said the scholarship "makes a huge difference, especially with the financial obligations I'll have at the end."
Laurel Dang, a second-year medical student who graduated from University of California, Irvine, said the scholarship was "one of the reasons I came here."
As a first-generation student whose parents are immigrants from Vietnam, she said the cost of medical school would have been out of reach without the aid.
Lorena Rincon-Cruz, a first-year student who graduated from Stanford University, said she's wanted to be a physician since she was 10 years old, but medical school seemed like an expensive dream.
"This gives me an opportunity to go to a school that I would not be able to go to without the help," she said.