PEOPLE
Otero named Woman Physicist of the Month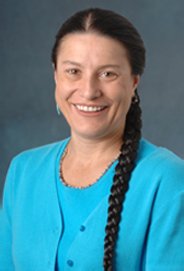 Valerie Otero, a physics education researcher and associate professor of science education at the University of Colorado Boulder, has been named Woman Physicist of the Month by the American Physical Society's (APS) Committee on the Status of Women in Physics (CSWP). The award recognizes female physicists who have positively impacted other individuals' lives and careers.
She is a first-generation college student from a family who has lived in New Mexico for more than six generations. Her academic career has paved a path for many members of her extended family and friends to attend college and work toward earning higher degrees.
As an academic, she has helped CU-Boulder develop a nationally recognized presence in science, technology, engineering and mathematics (STEM) education research and STEM teacher preparation, and has been the driving force behind the development of the Colorado Learning Assistant Model, a program now emulated by more than 30 universities throughout the nation. In addition, she is author of two nationally recognized physics curricula; a leader in Boulder's teacher education program, CU-Teach; and a dedicated and active proponent of projects that bring access to education including Vamos Buffalos and the I Have a Dream Foundation, which focus on students like herself who are traditionally underrepresented in science.
Otero will be featured on the Women in Physics website and recognized at a reception at an APS national meeting.