PEOPLE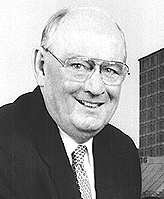 W. Leo Hill – a longtime leader at CU and the CU Foundation, as well as a student athlete, city manager, successful banker and community leader – died May 4, 2014. He was 90.
He had lived at Frasier Meadows Retirement Community in Boulder for the past 10 years.
In August 1958, Hill became the Vice President for Business Affairs and Treasurer of the University of Colorado, a part of the leadership team of then-President Quigg Newton. He greatly admired the leadership qualities of Newton, noting that many of those adopted qualities served him well through the balance of his career. Upon Newton's death, and consistent with his philanthropic orientation, Hill was active in establishing the Quigg Newton Leadership Chair at CU-Boulder. That chair has been held by two personal friends of Hill, initially Sen. Hank Brown and currently Sandy Bracken.
In 1963, Hill joined the First National Bank in Boulder. He became president and CEO of that bank in 1964. In 1969 he was central in the formation of the bank holding company, Affiliated Bankshares of Colorado. Throughout the remainder of his career, he held various leadership positions within the bank as well as the holding company including president and CEO of both institutions. He retired in 1988.
Hill believed in community service. He was an adviser to two governors and played an important role in the process that ultimately brought the National Center for Atmospheric Research, NCAR, to Boulder. As a community leader he served as president of the Boulder Chamber of Commerce, the United Way of Boulder County, Boulder Rotary Club, the University of Colorado Foundation and the Alumni Club of Colorado College. Other boards upon which he has served include Frasier Meadows, the national Municipal League, and Boulder Community Hospital and its Foundation.
A memorial service to honor him will be at 4:30 p.m. Thursday, May 15, in the chapel at Frasier Meadows Manor, 350 Ponca Place, Boulder.
Rather than flowers, contributions to honor him may be directed to Boulder Community Hospital Foundation, Colorado College, Frasier Manor and the University of Colorado Foundation.
Read more at gazette.com.