PEOPLE
Martinez named senior director of Office of Inclusion and Outreach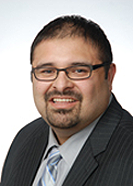 Dominic Martinez has been promoted from director to senior director of the Office of Inclusion and Outreach, formerly the Office of Diversity and Inclusion at the University of Colorado Denver. Martinez will continue his current duties, and, in addition, will help develop programs and initiatives between CU Denver's STEM (Science, Technology, Engineering and Math) programs and departments and related areas at the Anschutz Medical campus. He also will serve as the liaison between Student Affairs and the Office of Diversity and Inclusion, and he will work on special projects assigned by the Associate Vice Chancellor for Diversity and Inclusion.
The name change better captures the mission and objectives of the office, which include fostering a culture of inclusion and cultural competence, providing lifelong learning opportunities to students from underrepresented backgrounds, and offering development and training for faculty and staff.
"We also want to eliminate confusion regarding the executive Office of Diversity and Inclusion that recently came under the leadership of Brenda J. Allen, as well as other departments or programs on both campuses that have similar names," Martinez said.
The other offices that are doing related work and providing such services, Martinez noted, are in the School of Medicine as the Office of Diversity and Inclusion and the School of Education and Human Development's Office of Diversity and Inclusion.