PEOPLE
Martinez, Magee present at national conference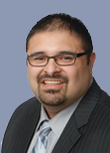 Dominic F. Martinez, senior director of Office of Inclusion and Outreach, and Deidre Houston Magee, School of Medicine BA/BS to MD program, presented at the 26th Annual National Conference for Race and Ethnicity in American Higher Education (NCORE) earlier this month in New Orleans.
The presentation, "Professional Pipeline Program and Partnerships: A Pathway to Increase Diversity," focused on how partnerships between community organizations and four-year institutions have long been established for the retention and persistence of students in professional and vocational programs.
"However, little emphasis has been placed on the creation of a sustainable community and four-year universities to professional programs," Martinez said.
Their presentation highlighted and defined the need for collaboration between community organizations, four-year universities, and professional programs to create successful partnerships and programs for students. CU's Undergraduate Pre-Health Program (UPP) was offered as a model of a successful partnership.
Martinez also participated in this month's Mormon History Association Conference in Layton, Utah. His presentation: "Mormons in Colonized Spaces: The Pacific World and the North American West."
His remarks, "Iosepa, Utah: Reclaiming History Through Connectedness," discussed how in 1889 the Mormon Church established the Polynesians Mormon colony at Skull Valley in Tooele County, Utah. That community became known as Iosepa in honor of Joseph F. Smith, who had served multiple missions in the Hawaiian Islands. The immigration saw more than 200 Polynesians relocate to the colony.