PEOPLE
Lotfi gives keynote address at conference in Switzerland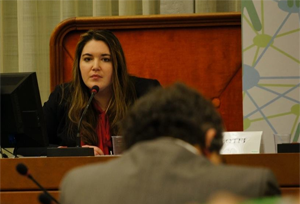 Sarah R. Lotfi, lecturer, Department of Visual and Performing Arts at UCCS, and a 2012 alumna, gave a keynote address on independent film at the World Intellectual Property Organization Jan. 22-23 in Geneva, Switzerland.
The presentation was co-authored by Anastasia Cummings and Ben Sullivan of Novel Motion Pictures in Denver and examined the processes of collaboration open to independent filmmakers in technology, business models, and financing.
In October, Lotfi received the Colorado Spotlight Award during the Indie Spirit Film Festival for her direction of the film "Menschen" which was set during WWII in Czechoslovakia and filmed entirely in Colorado.