PEOPLE
Klymkowsky honored for undergraduate science teaching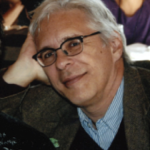 Michael Klymkowsky, a University of Colorado Boulder professor of molecular, cellular and development biology, has been awarded the 2013 Outstanding Undergraduate Science Teacher Award from the Society for College Science Teachers.
Among the achievements Klykowsky is being honored for is his work redesigning curricula for an introductory molecular biology course and an introductory chemistry course. Klymkowsky's redesigns include online labs and graphic-based formative assessments.
Klymkowski's current work includes extending his chemistry curriculum, known as Chemistry, Life, the Universe and Everything, or CLUE, and his molecular biology curriculum, known as Biofundamentals. He is also working on developing more informative test designs and strategies for improving learning outcomes in science courses.
He has devoted time to outreach, addressing student questions through the Mad­Sci network. He is a Fellow of the AAAS, a recipient of a Best Should Teach Award, a Co-Director of the CU Teach Science Teacher Recruitment and Certification program, and on the management team for the new Center For Student STEM learning at CU-Boulder.