PEOPLE
Kaempfer receives award from Faculty Council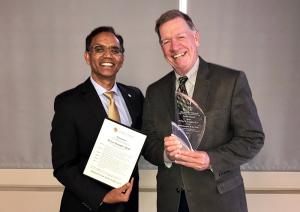 William Kaempfer, Ph.D., visited Faculty Council at its May 3 meeting to receive the governance group's Administrator of the Year Award.
Kaempfer is retiring as CU Boulder's senior vice provost and associate vice chancellor for Budget and Planning, effective June 30. He has served the university for 36 years, also as a professor of economics.
Faculty Council Chair Ravinder Singh presented Kaempfer with his award and read a resolution spotlighting his service to the Boulder Faculty Assembly; that group's past chair, Melinda Piket-May, called Kaempfer "a great campus citizen." Singh also noted Kaempfer's tireless work at promoting and improving the working conditions and professional profiles of teaching faculty at CU Boulder.
Kaempfer's was one of three service awards given this year by the Faculty Council.