PEOPLE
Jones honored with Molly Brown Award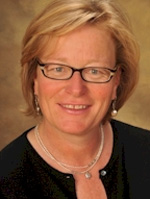 Anna Jones, lecturer in planning and design at the University of Colorado Denver College of Architecture and Planning, recently was recognized with the Molly Brown Award, which honors a woman who has demonstrated a Molly Brown-like passion for making Denver a stronger community.
Jones, like Margaret "Molly" Brown, has devoted time to civic life in Denver. She is the current vice president of Progressive Urban Management Associates and provides project management and lead support for community development, downtown planning and business improvement district projects.
Also in a Brown-like effort, Jones has raised money for causes she believes in, such as when the 2004 tsunami hit Sri Lanka, killing 30,000. Jones and her husband raised $30,000 in a little more than a month to fund the construction of three new houses. Anna also is active as a local volunteer, including her work as a board member for Downtown Colorado Inc. She is a mayoral-appointed member of the Denver Planning Commission.