PEOPLE
Hicks honored for procurement contributions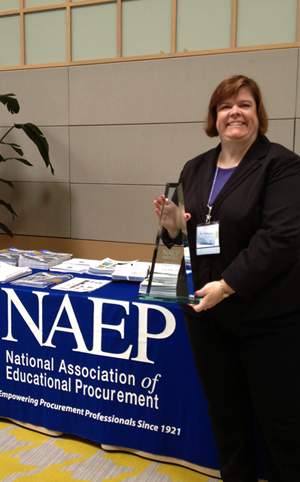 At its Annual Meeting in April, the National Association of Educational Procurement (NAEP) presented the Bert C. Ahrens Achievement Award to Assistant Vice President/Chief Procurement Officer Sandy Hicks. The highest honor given by the association, the Ahrens award recognizes a member who has made outstanding contributions to NAEP and to the procurement profession in general, over an extended period of time.
NAEP has an almost 100-year history of serving higher education purchasing officers in the U.S. and Canada. Its mission is to facilitate the development, exchange, and practice of effective and ethical procurement principles and techniques within higher education and associated communities, through continuing education, networking, public information, and advocacy.
Hicks is a Certified Professional Public Buyer (CPPB) and has been an NAEP member since 1988, serving the association in many capacities, including President in 2010. She also serves as chair of the NAEP Innovators Forum.
In accepting her award, Hicks thanked the hard-working staff of the PSC for their energy and efforts on behalf of CU procurement.