PEOPLE
Hai Lin receives Henry Dreyfus Teacher-Scholar Award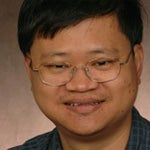 Hai Lin, associate professor of chemistry, College of Liberal Arts and Sciences (CLAS) at CU Denver, has been honored with the 2014 Henry Dreyfus Teacher-Scholar Award. The Camille and Henry Dreyfus Foundation selected him as one of seven recipients this year.
The award supports the research and teaching careers of talented young faculty at the undergraduate level in the chemical sciences, including biochemistry, materials chemistry, and chemical engineering. Selection is based on accomplishments in scholarly research with undergraduates, as well as a compelling commitment to teaching.  With the award comes an unrestricted $60,000 research grant, of which $5,000 is to be allocated for departmental expenses associated with research and education.
In 2010, Lin became the first CLAS faculty member to receive the prestigious National Science Foundation CAREER Award. Last year, Lin and colleague Jefferson Knight, assistant professor of chemistry, received a Multi-Investigator Cottrell College Science Award from one of America's oldest foundations -- Research Corporation for Science Advancement.
Lin's research in computational chemistry focuses on multi-scale modeling and simulation algorithms for studying chemical and biological processes in complex environments. Using modern computational techniques, Lin and his group have investigated a wide range of problems in chemistry and biochemistry, including enzymatic reactions, ion solvation and transport, membrane-protein associations, and structure-based drug design.
Lin teaches general chemistry and physical chemistry courses. He explained his approach as encouraging the students to think critically and creatively. "I believe that the most important thing for an educator is not to teach, but rather to inspire." Lin said. "The biggest accomplishment I can make is to ignite the passion for science in those young minds and let the enthusiasm accompany them all the way into the future."
Encouraging students to conduct research also is important for Lin. Among the nearly 20 undergraduate students doing research in his lab, seven have published in peer-reviewed journals and more have presented in professional conferences.