PEOPLE
Darnall receives UCCS Medal of Honor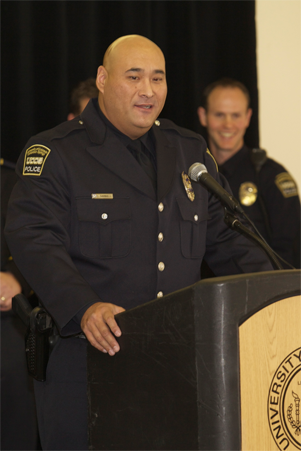 Officer Larry Darnall recently received the UCCS Medal of Honor for his actions during the Black Forest Fire. The award is given to police officers who have distinguished themselves through extraordinary heroism beyond normal demands, and in such a way that they were fully aware of the imminent threat to their safety.
He was presented the medal at a Dec. 11 Department of Public Safety awards luncheon.
According to Brian McPike, interim chief of police, Darnall was one of seven UCCS police officers to volunteer in assisting local first responders with emergency evacuations, traffic control and security.
While working with El Paso County Sheriff's Office and the Colorado Springs Police Department, the fire breached containment lines, cutting off Darnall and a number of CSPD officers. Darnall was able to evacuate the CSPD officers in his cruiser after the flames consumed the CSPD vehicles.
"He rescued so many people that they had to ride out on the hood of his car," McPike said. "Officer Darnall's actions that day no doubt had a direct impact on many people's lives and property."
McPike said he received multiple calls from individuals thanking him for UCCS PD's participation, including from Pete Carey, police chief, Colorado Springs Police Department, and El Paso County Sheriff Terry Maketa. Darnall was also recognized on television when Colorado Army National Guard Lt. Col. Mitch Utterback thanked him for escorting him through the fire zone.
"I've never been in a situation like that as a cop," McPike said. "If asked, hopefully I'd have the courage to do that. But I can tell you that Larry did it, and we're here to honor those selfless acts in a highly dangerous and volatile situation."
Darnall is the first UCCS police officer to be awarded the Medal of Honor, the department's second highest award.
Others receiving awards were:
Ron Honn, environmental health and safety manager: Employee of the Year, awarded for consistently exceeding expectations in the areas of customer service, quality of work, teamwork and positive attitude.
Grant Lockwood, police sergeant: Craig Highline Award, given to officers for outstanding achievement in the areas of impaired driving enforcement and education. The award honors former UCCS Police Officer Craig Highline who was killed by a drunk driver in October 2008.
Joe Dilwood, police officer, and dispatchers Larry Gonzalez and Phil Brotherton:  Award of Excellence, given for an individual act of excellence that has been the result of personal initiative and has led to an increase in department morale or efficiency.
Time of service award winners: Claudia Ryan, 15 years; Brian McPike, interim chief of police, and Grant Lockwood, police sergeant, Department of Public Safety, 5 years.