PEOPLE
Cucchiara named to student activities post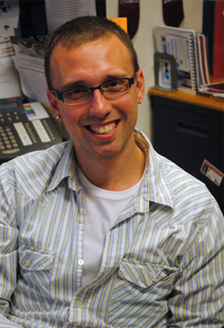 Stephen Cucchiara is the new assistant director of student activities in the Department of Student Life and Leadership at the University of Colorado Colorado Springs. Previously, Cucchiara served as coordinator for student activities and organizations at Western Oregon University, where he collaborated with key departments to produce special events such as homecoming, summer concerts and family weekends in addition to advising campus fraternities and sororities and working with student clubs. At UCCS, he will work closely with various student organizations to produce campus-based student activities.
Cucchiara was selected following a national search and joined UCCS on Nov. 1. Prior to joining Western Oregon, Cucchiara was a graduate assistant in the Office of Student Affairs at the New York University College of Dentistry and a facilitator in the Center for Student Achievement at CUNY. He earned a bachelor's degree from Ramapo College of New Jersey, Mahwah, N.J., and a master's degree from New York University.
Cucchiara replaces Mitch Karstens, who accepted a position as the director of student life at Colorado Mesa University, Grand Junction.