PEOPLE
CU-Boulder staff members saluted at Years of Service banquet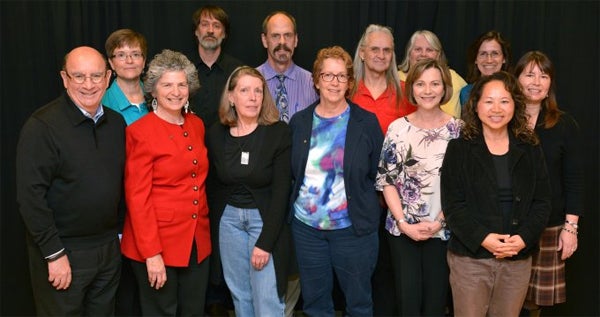 Recently, 142 university staff members and recent retirees were honored at the annual Staff Council Years of Service banquet, a tribute to recently retired and long-serving members of the CU-Boulder staff. Chancellor Philip DiStefano, himself a 41-year member of the CU-Boulder campus, opened the event with remarks about the importance of staff to the university's goals.
"I often say that staff is the backbone of the university," DiStefano said. "Staff are very integral to my three goals for this campus (student success, reputation and diverse revenue sources). Without you we really couldn't do it."
Those honored included:
20 years of service — Rebecca Adelman, Maria Aguirre, Rogelio Arellano, Andrea Barsch, Gayle Boethling, Ann Brookover, Jack Brubaker, Sylvie Burnet-Jones, Connie Caplan, Mee Chang, Shannon Chinatti, Charles Counter, Daniel Courtney, Consuelo Delval, Brenda Duran. Sharee Ewudzi-Acquah, Sedrick Frazier, Myra Fritch, Maria Garcia, Lecarla Gilmere, Linda Harkness, Karen Hawley, Ellen Hedrick, Ava Hill-Ector, Bronson Hilliard, Carla Ho-a, Victoria Ibarra, Angela Janacek, David Kambic, Thomas Kunstman, Jennifer Law, David Lindblad, Karen Lorimer, Bret Mann, Eric McDonald, Jeanne McFarland-McDonald, Narinton McKinley, Patricia McNally-Leef, Elaine Montano, Kenneth Morse, Paul O'Brian, Vaughn Ochs, Kathryn Ramirez Aguilar, Heidi Robinson, Loretta Robinson, Pamela Rosse, Terry Swindell, Steven Thweatt, Lisa Vialpando, Mary Williams and Daniel Wyss.
25 years of service — Emma Aguirres, Lois Cox, Chisya Delamarter, Kristopher Easter, Juergen Friese, Janet Garcia, Patricia Gassaway, Steven Glickman, Ramon Go, Lee Gutmacher, Anne Heinz, Susan Johnson, Rochelle Joy, Vickie Machoi, Nichola McIntosh, Jane Merriman, Lesa Morris, Cynthia Ocken, Michael Petitt, Gwen Pomper, Lou Rutherford, Francisco Salas, Norman Skarstad, Tina Tan, Lillian Valenzuela, John Warren and Karen Weingarten.
30 years of service — Daniel Aguilar, Robin Bryant, Karen Campbell, John Debell, Cassandra Gobrecht, Tim Hogan, Soay Phommachanh, Joseph Rosse, Khammoune Sailakham, Derrick Watson and Hilary Waukau.
35 years of service — Ellen Romig and Michael Thomason.
40 years of service — Karen Brown, Michael Grant, Sheryl Jensen, Lorrie Shepard, Leanne Walther and Donald Yannacito.
45 years of service — Mary Shea.