PEOPLE
Chreist named CU-Boulder assistant vice chancellor for alumni relations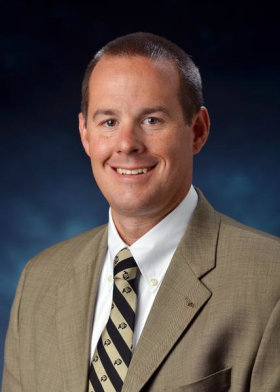 Ryan Chreist has been named assistant vice chancellor for alumni relations at the University of Colorado Boulder. Chreist, who most recently served as the director of recruitment, operations and system integration for the CU-Boulder Office of Admissions, starts this week.
"Ryan's background in admissions has given him a truly global understanding of CU-Boulder's appeal to students, parents and alumni," said CU Vice Chancellor for Strategic Relations Frances Draper. "His skills in relationship management, as well as his talent for public outreach and engagement, will make him a great ambassador for the university and to our alums. We are excited to have him lead the Alumni Association."
The assistant vice chancellor for alumni relations serves as executive director of the CU-Boulder alumni association and is charged with managing the campus's relationship with its more than 300,000 alumni through the Forever Buffs initiative, helping to build their affinity and engagement with the university from their undergraduate years forward, and finding ways to harness their pride and loyalty to create advocacy and involvement. The post oversees an alumni staff of 25 and leads all alumni operations, communications and events planning.
In his most recent post in the Office of Admissions, Chreist oversaw staffs responsible for the recruitment of prospective students in the United States and internationally, the implementation and integration of IT systems used in admissions and for the processing of all undergraduate and graduate applications. He worked for the CU system from 2007 to 2010 as a member of the Student Information System implementation team and led the design team responsible for the new admission application and recruitment portal.
From 1997 to 2008, Chreist held positions within the Office of Admissions ranging from admissions counselor to associate director of admissions. In addition to managing a large recruitment territory and serving as a member of the campus Enrollment Management team, he coordinated the National Alumni Admissions Assistance Program (NAAAP), which established alumni as university partners in recruiting prospective students, and organized National Council recruitment events with the CU-Boulder Alumni Association, CU-Boulder Parent's Association and the CU Foundation.
"It is an honor to continue to serve the University of Colorado Boulder and the hundreds of thousands of people who have come through its doors," Chreist said. "I look forward to continuing to engage our alumni locally and in the far reaches of the world to help them stay connected to their CU-Boulder experience."
Chreist was a 2012 recipient of the Alumni Association's Robert L. Stearns Award, which recognizes members of the faculty and staff for extraordinary achievement in one or several of the following areas: teaching, service to the university, work with students, research or off-campus service. He has served as a volunteer firefighter and emergency medical technician with the Louisville Fire Protection District since 2002.
He holds a bachelor's degree in kinesiology from CU-Boulder and a master's degree in public administration from the University of Colorado Denver.
Chreist succeeds Deborah Fowlkes, who held the post from 2010 to 2013 and who left the university in March.