PEOPLE
Chavez joins Latin American Education Foundation board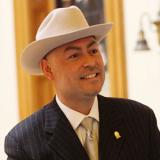 Nolbert D. Chavez recently was unanimously appointed as a new member of the board of directors of the Latin American Education Foundation.
Chavez is chief of external initiatives for the University of Colorado Denver and associate vice president for external community engagement for the University of Colorado system.
"Nolbert brings a deep passion for the work and mission of the Latin American Education Foundation (LAEF), having been a scholarship recipient 30 years ago," said Jim Chavez, executive director of the foundation. "And the University of Colorado has been a great partner, serving 675 LAEF students (totaling $850,000 in scholarships) in the last 20 years alone.
"Nolbert brings extensive experience, having served in the Colorado State Legislature, and he continues his significant involvement and investment in education in his position at the University of Colorado. We are very excited to bring Nolbert on board to this great family … a family he has actually been a member of since his very first college days. Welcome back!"
At CU Denver, Nolbert Chavez works closely with Chancellor Dorothy Horrell, faculty and staff to assure that external engagement efforts across campus are effective, value added and strategic. He works with community partners such as the city of Denver and other business and community organizations to realize the potential of meaningful partnerships.
In system administration, Chavez helps connect the CU system to diverse communities as part of a larger engagement effort.
He has significant experience working to connect universities and other organizations to public and private partners. For 13 years he was a partner in Capitol Success Group, a public affairs and lobbying firm based in Denver. His clients included nonprofit, corporate, governmental, quasi-governmental and higher education clients including Adams State University and Metro State University of Denver.
Chavez was elected to the Colorado House of Representatives in 1994 and served eight years representing District 5 (Denver), which included northwest Denver, Capitol Hill, downtown and the Auraria Campus.
Chavez earned a bachelor's degree in business management and marketing and in 2016 earned a master's degree in political science with an emphasis in policy and politics from CU Denver.