PEOPLE
Berning's innovative cooking program wins award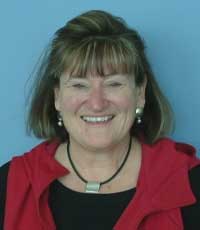 Jacqueline R. Berning, professor and chair of the health science department at UCCS and a registered dietitian nutritionist, has been named the recipient of the Academy of Nutrition and Dietetics Foundation's 2014 Mary Abbott Hess Award for Recognition of an Innovative Food and Nutrition Effort.
The Hess award annually recognizes original work – such as a publication, service, educational program, product or activity – in food and culinary education. Berning received the Hess Award for a cooking program she initiated with the University of Colorado football team.
"Cooking with the Colorado Buffaloes" is designed to teach players "how to shop, prepare and cook nutritious foods that would provide the proper fuel and nutrients to optimize athletic performance," according to Berning. "The objective is to teach student athletes the basic cooking skills they can utilize at home and on campus through interactive learning."
Berning, an Academy member since 1985, has taught at UCCS since 1990 and received the university's 2003-2004 Teacher of the Year Award. She was a national media spokesperson for the Academy of Nutrition and Dietetics from 1998 until 2005. She is board certified in sports dietetics by the Commission on Dietetic Registration and is a member of the Academy of Nutrition and Dietetics' Sports, Cardiovascular and Wellness Nutrition dietetic practice group.
Berning is a nutrition consultant to the university's athletic teams and has worked with professional teams including the Denver Broncos, Colorado Rockies and Cleveland Indians. She is the former nutrition coordinator for United States Swimming, where she worked with national and Olympic teams. She also developed nutrition materials for swimmers, coaches and parents who attended local and developmental swim camps at the Olympic Training Center.
As a researcher, Berning specializes in nutritional requirements for sports and exercise as well as bone mineral content of young female athletes. She is the author of "Nutrition for Sport and Exercise" (Jones & Bartlett, 1998) and "Training Nutrition: The Diet and Nutrition Guide for Peak Performance" (Cooper, 1995), and she co-authored the textbook "Wardlaw's Perspectives in Nutrition" (McGraw Hill, 2011).
She earned a master's degree in exercise physiology from CU-Boulder and a doctorate in nutrition from Colorado State University.