PEOPLE
Anseth honored with Bonfils-Stanton Foundation award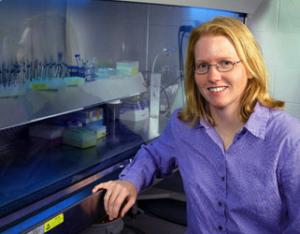 CU-Boulder's Kristi S. Anseth recently was announced as the 2015 Science and Medicine honoree by the Bonfils-Stanton Foundation. Annually, the foundation honors individuals making significant and unique contributions in the fields of arts and humanities, community service.
Anseth is Distinguished Professor of chemical and biological engineering, associate professor of surgery, Howard Hughes Medical Institute Investigator at the University of Colorado Boulder Department of Chemical and Biological Engineering, and a member of the Institute of Medicine of the National Academies, the National Academy of Engineering, and the National Academy of Sciences.
Anseth earned her bachelor's degree from Purdue University in the lab of noted researcher Nicholas A. Peppas, and her Ph.D. from the University of Colorado under the direction of Christopher Bowman. Her primary research is the design of synthetic hydrogel biomaterials that replicate the extracellular matrix surrounding living cells, creating scaffolds for the growth of new tissue. In 1999, she was named to the MIT Technology Review TR100 as one of the top 100 innovators in the world under the age of 35. She has filed for 18 patents, and published more than 250 research articles, and in 2003, she and her students were the first to successfully develop an injectable and biodegradable scaffold to regenerate cartilage.
Click here to see an interview.